House of Sundanese Food
#02-18 Great World City
Tel: 68875535
Branches: http://www.sundanesefood.com/contact.htm (Boat Quay branch is not HALAL)
(there is a branch @KLCC, Malaysia)
Menu: http://www.sundanesefood.com/menu.htm
I was in the mood for some Indonesian food. Felt like having some rendang. I wanted to compare Garuda and Sundanese rendang. Also ordered their famous "dancing Fish" , grilled chicken, sambal eggplant, grilled/bbq sotong and some home made lime juice.

There is a free flow of fruits buffet (mini counter) and sweet kuehs, vegetable rojaks and dessert. Just pay $3 per person.


We were served with some crackers with sambal belacan (appetizer/snacks while waiting for the main course to be served.Price: $3


I felt that the bbq sotong and chicken has similar marination, both are sweet, too sweet for my liking.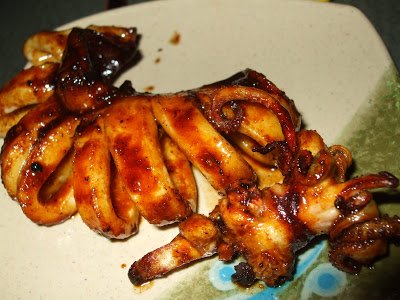 I like the , egg plant, dancing fish, it is fresh and crispy on the outside and their sambal belacan that came with the bitterish belinjo crackers.

U have to be careful when eating this Fried Nila fish. One of my makan kaki (told me about his experience there)had a tiny bone stuck at the throat. He thought since the fish is very crispily fried and so crunchy , everything can be eaten…hehhe! SO got to watch out for those bones!!!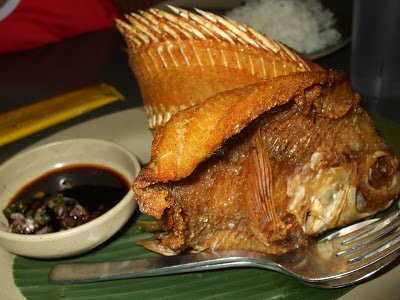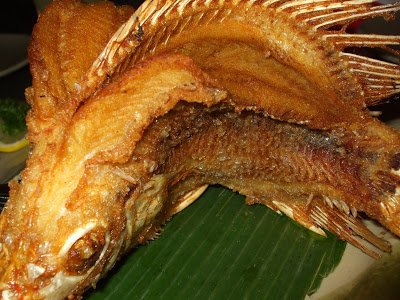 I have high expectation of their rendang but somehow, I felt that the taste is similar to some rendang that can be found in Geylang serai bazaar/market, nothing extra ordinary, the truth is , I dont really like it…. Garuda's rendang is still one of the best.

Lime juice


Wet towel: $0.30 each, the rice is quite expensive, $1.90 per person (including kids) so parents just ask for lots of scoops in one serving for urself and later u can transfer to ur kids plate.(hehe!)

A bit dissapointed at their rendang and the bbq (too sweet) items. Hmm…another try? Perhaps for its house speciality…Grilled Seabass.
Anyway, I believe this shop is related to the restaurant….(same shopping centre)

p.s: Hey, check out my Iftar , last year at GARUDA!
http://putri-berendam.blogspot.com/search/label/garuda
(Visited 13 times, 1 visits today)