Geylang Serai Bazaar
Paya Lebar MRT
(stretches from Paya Lebar Mrt vicinity to Joo chiat complex)
Time : Crowds will start pouring in from 8pm onwards on weekdays, weekends might be earlier (Bazaar start 4pm onwards till late night)
I took this pic from a double decker bus (bazaar near Geylang serai market)

Bazaar at Malay Village (opposite Haig road)
Had not been to Geylang serai since Ramadhan but because I had class, eventually I have to pass that area. I am not a fan of crowds. I went to the bazaar that are located in front of Jamiyah Business School till Haig road. Did not go to The Geylang serai Wet market/Tg Katong shopping centre…
With a "selamba" face , I just went around snapping shots of people's stalls..hehe!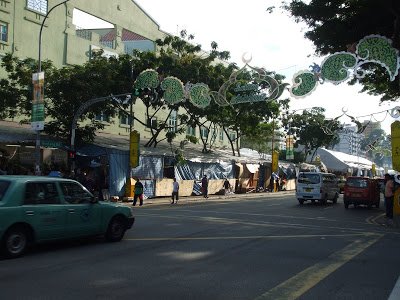 Bunga kembang malam (colourful assortments of flowers)
Raya kuehs, anyone?
Char kuey with fish/sotong paste…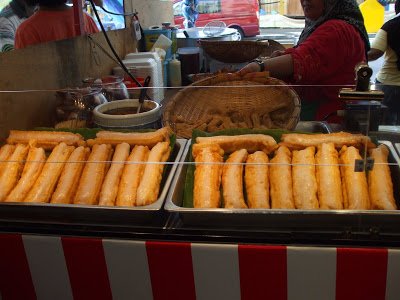 Malay savoury kuehs…
I love Turkish ice-cream, kinda sticky gooey…
I saw a kebab stall from Anatolia restaurant (the one in Far east) with turkish chefs, I like their kebabs! But have not tried the ones at Bazaar though…
Boyanese bread (potato bread), hmm..I would love to add meat to Boyanese bread..

Grilled chicken wings and quail birds
Ramly burger
Satay, oh Satay….

Fried fritters, Burger Ramly…

I kinda like these grilled chicken wings….
Bought some sambal goreng pengantin and sampal paru from this Nasi padang dishes stall, taste is ok perhaps my throat is still "in recovery" so not really in the mood…
Capal shop (malay slippers/footwear) …

Okey , I know it's not fair to compare the Bazaars here to Malaysia ones but within that stretch of stalls, I realised that there are many competitors for certain products e.g grilled chicken wings, Burger Ramly, Roti John, kebab, fried fritters….and of course the DENDENG (which actually shot up to $4 per 100g and it is only a meagre 2 pieces!! The stall that I patronise have difficulty weighing exactly 100g of dendeng but I was secretly hoping that they gave me more but that did not happen…heheh!On budget…)
I did see japanese okitori yaki balls, shark fin soup, bird nest drinks, waffle hot dogs….hot dog buns with minced ramly burger patty (quite nice actually though the flavour is overwhelming with all the sauces and mustard)
So that's it for now….
p.s: I pass by Bussorah Street and saw the decorations. I saw that they have Hari Raya greetings in many language and one language I recognise is "Suikerfeest" , a dutch word for Hari Raya.
Next post insya-Allah will be iftar at Sundanese Restaurant @ Great World City. (only boat Quay branch is not HALAL)
(Visited 3 times, 1 visits today)