Fig & Olive
Vivocity branch #02-116
(Harbourfront MRT)
Anyway, the place is nice. Small and relaxing. The food is good too! The black pepper steak is nice! The kids meal of drumlets are a bit too spicy for kids but adults will love it! (it come with orange juice and ice-cream) Tried the signature dish "SURPRISE", Love it! It's like Pizza+kebab (top with slices of figs)..YUMMY!
This bread is super soft! Love it! As u bite it, its bursting with flavours….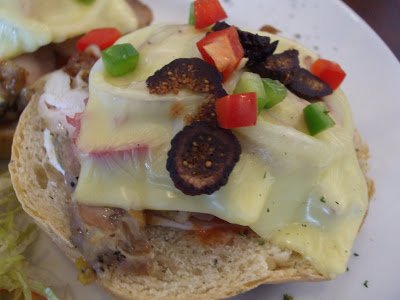 U can taste the steak is superior quality. The sauce is not really 100% black pepper sauce. I tasted it and its a mixture of BBQ sauce and black pepper thus the black pepper is milder here. I don't really like the baked potato.


U can choose to sit outside overlooking Sentosa island.(but now too much construction, nothing to see)
Overall verdict: Love it! They also have online ordering….

Err, sorry, u got to turn ur head a bit to view the receipt, my pc/blogger is giving me trouble again…thousand apologies…
My 2 cents worth of opinions: I think its location beside Earle Swensen is a setback because that restaurant really has a magnetic force of drawing customers.And after I had my fill, I saw thru its big glass panel, how huge their servings are at Swensens!! Coming back for Swensens…. YIPEE!
(Visited 5 times, 1 visits today)