Istanbul Tampines to taste their famous nasi lemak. I saw the long queue before (fyi-the dosai and mee bakso/beef ball are yummy!) and thought I will beat them today. I woke up early and left as early as I could…but then… i got fickled midway upon reaching there…

I decided to take a look at the RASA 21 food court.
Boy, was I attracted to the wide array of food stalls. And most of them are opened except western and chicken rice stalls. (Sorry, Istanbul, next time perhaps…)
Anyway, at 201D before the renovation , it used to be a coffeeshop. And there used to be a nasi padang stall and it had one of the best rendang. And most of its customers are chinese. i wonder where they go? (anyone?)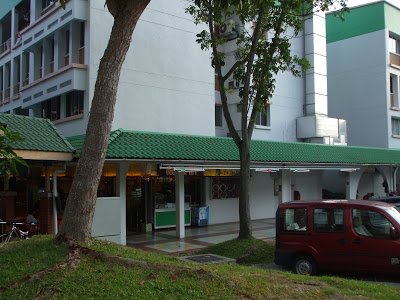 rasa 21 food court (similar to banquet concept)
(all halal!!)
Blk 201D tampines
So , spoilt for choices, I procrastinate to order. Not knowing what to order, everything looks so salivating! I decided to go for "comfort" food..Porridge. Had some fresh bouncy fishballs and soup from sedap noodle stall , some peanut kaya bread and prata made by chinese lady. (not bad!)

Opening hours for this stall: 6am-3pm


Porridge was nice…they have many flavours. One that intrigue me is the cuttlefish with peanuts. Had never tried that before. But i asked for the most popular porridge and was told its the chicken porridge with egg and yuetiao .And they used a mini-wok to serve the porridge. It's a generous serving for only $2.80 (so cheap!). The porridge is of thick congee. They used similar pot for cooking the porridge just like my favourite chicken porridge stall here:
http://www.linamasrina.com/2007/11/teh-tarek-coffeeshop-geylanghaig-road.html
(but for this porridge stall in Geylang, make sure, u request the man to cook for u! I've tried tasting his assistants' cooking but it's not as good as his…)

But u might need to wait 5-10mins because its porridge are popular with the customers.

The prata came with a curry that tasted more creamy like in "lemak" (coconut gravy) than the indian curry. It's different and mild.

The peanut butter kaya bread is soft but I prefer it to be more toasted. The taste is ok. The kaya cannot really taste because either too little or taste is extremely mild.


Seriously, if u need a wide choices of food for breakfast, come here…. I came out with a full tummy and a smile on my face. It s good start for the day….
P.s: There is another Mr Teh Tarek coffeeshop nearby …..hmm…
(Visited 3 times, 1 visits today)