Have u been to the rustic nature reserve of Sungai Buloh in Singapore? If u did ,then… this is similar to that.I did not expect it to a big park of nature reserve. I thought it is just a typical sea with white sandy beach . But luckily,I came prepared. With a big bottle of mineral water, comfy sneakers, binoculars and a pair of sunglasses, I came like an "expert". hehe!
Tanjung Piai -75km from Johor Bahru. The only way I know: take an express Pontian bus from Larkin bus interchange to Pontian Bus station. Then take a cab from Pontian Bus station. (Best is to bargain with a the driver on the full to and fro fare before boarding the cab). Estimated to be RM15-20 (4 person).


Driving:From Kuala Lumpur, take the North-South Expressway (NSE) south past Machap, then take the Simpang Rengam exit (Interchange 247) onto the highway headed for Tanjung Piai, via the Benut – Pontian – Kukup highways (Highway 96, Highway 5 and Highway 95). Once near Kukup, follow the sign boards leading you to Tanjung Piai.
It was very quiet when we visited in the morning.Aside from the school kids that came in groups, 2-3 ang-moh tourists..there's no one else. It was a long quiet walk to the wooden platform of the sea. There were many bicycles neatly arranged but they are for the park wardens. Sigh…
Along the way, u can see mangrove swamps , trees, mud skipper, hear the harmonious "music" of nature…beautiful. Make sure, u wear a comfy sneakers ! And bring lots and lots of water along. (they do have a food and drink stall at the entrance of the park but u wouldnt want to keep running to and fro , too far!)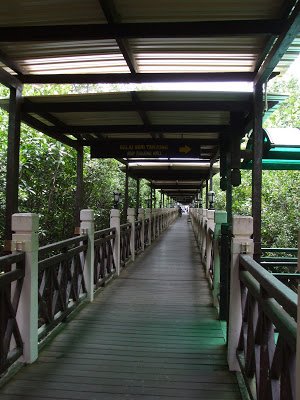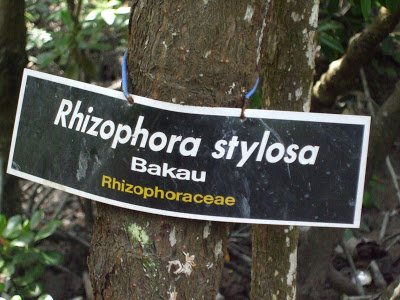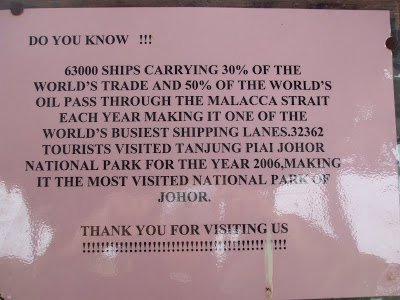 If u want, u can part with RM10 to get ur name printed (in a certificate)certifying that u have been to the southern most tip of mainland Asia.
On our way out, we spotted some monkeys…
After that, we went to kukup and buy some fruits. No chance of eating at kukup kelong seafood though.(Sorry readers, next time perhaps?! Insya-Allah)


This place has some gigantic fruits displayed but we went in, there was nothing, disappointed but not for long….
Roadside fruit stalls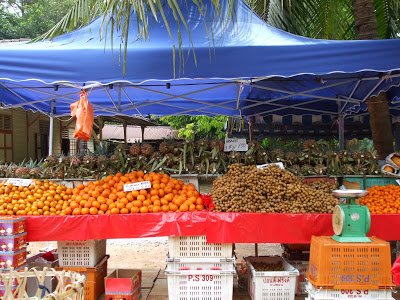 (Visited 9 times, 1 visits today)