Sungai Balang,
Kampung Sungei Gersik
(between Muar and Batu Pahat)
Free entry!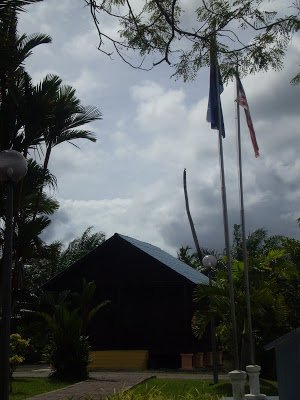 From Muar can be reached a hot spring area at Sungai Balang, on the way to Batu Pahat.
This hot spring is much better than the Sungai Klah. Its not as hot but it's energy is much stronger. Cannot explain, got to try it to believe it. This supposingly has some sulphuric content. (belerang). Normally, they will soak the feet here and bring some small pails or containers to scoop the water and pour at other parts of the body like arms and so on… Some even bring home probably to bathe. It is said that it can heal some illness.
It's like the Qian Hu communcal pool but 2X bigger. When i look beneath it, I saw some sort of big rocks. Was told by the locals that some even dive in to it. Err…I dont dare.

On Sundays, it is packed with families and kids happily swimming around in the other shallow, warm water pool. The other time , I went on saturday, there were about 5-7 people. Not many people.
Was told that they wanted to implement entrance fees but the villages make such hoo-haa that the plan was aborted.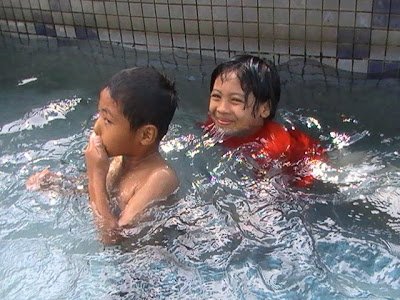 Dont forget to buy some packets of "murukku" at the tiny rows of shops there. SEDAP!
There is another hot spring near Segamat:
http://en.wikipedia.org/wiki/Pekan_Air_Panas
After that, we head to Nasi bariani power. This time round, it was lunch on a sunday. It was packed. I noticed that everyone has his/her own plate of bariani rice (no sharing) even the kids. Hmm… but I find that the rice aint as fluffy as it used to be when I first tasted it:
So my conclusion is : in order to taste this briyani at its best, come down around 10am ….u'll be amazed… and dont forget to order their pink sweet ,mild sourish bandung drink (with added ice-cream soda) SHIOK! on a hot sweltering day…
p.s: one makcik commented that this briyani might have used some MSG because she felt very thirsty after that.hmm..
Eh, wait…I 've forgotten to include my breakfast in a town called MUAR. Guess what is on their breakfast menu?…SATAY! Have u ever had satay for breakfast? The earliest I did was at Haig road but that was about 11am. But in this town , it is a norm. Once u reached this town, u can see and smell satay everywhere. In fact, u can get it as early as 7.30am
The first time I came here, I was too late. I came about 11am. All finished! But this time, I came back with a revenge! I gotta to get my hands on those satay!!!
But dont expect great customer service. They will be too busy to even get u seated. So get urself seated by hook or by crook. No matter how small the shop is, I suck my breath in and squeez in with the locals. hehhe!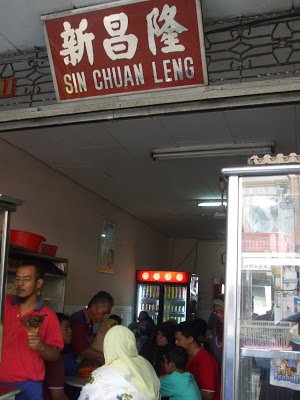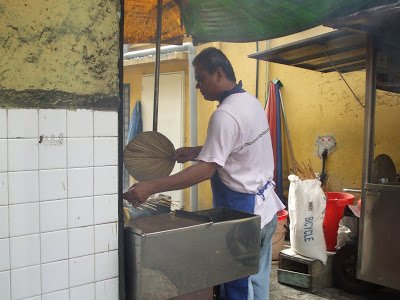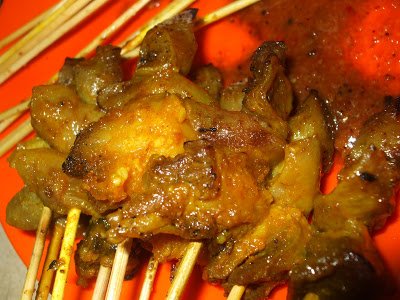 anyway, their famous satays are the tripe (cut in small rolls)and the paru (lung) but their beef is not bad too.The tripe is soft , juicy and mild sweet . The paru is well marinated and a bit sweet too. All satays are good enough to be eaten on its own. The gravy is not bad too! All well-cooked, no uncooked meat given.

Their mee rebus is nice too!
And dont forget to try their famous mee bandung in another stall (different from Singaporean version). See my previous post:
http://www.linamasrina.com/2007/10/muar-delicacies.html
Oh by the way, just in case u get lost, these are 2 landmarks near the stall. (Or u can ask the locals there where is the famous satay @ Jalan Sulaiman near Jalan Abdullah)
This blue signboard shop is just opposite this satay stall.
(Visited 13 times, 1 visits today)