Operating HoursWeekday – 8.00am to 9.00pm
Sat, PH & School Holiday -8.00am to 12.00am
Resort Areas -Daily 8.00am to 7.00am
Email:
theeone71@hotmail.com
Sales Department:07-8829222/07-8829111
Front office Department:07-8836222
Cool, clear, gushing waters…Feel the fresh aura of these waterfalls…
So invigorating to sit by a moving stream or a waterfall. It helps to remove unwanted or unused energy, leaving us feeling more intact, cooler and recharge.
So what are you waiting for?!! Let's recharge our batteries!!!
Frankly speaking this is my first visit here. Though I have relatives living around here and had this urging desire to take a look…it took me ages to reach here. But anyway, alhamdulillah I made it!

Was shocked that I need to pay quite an amount to just to take a peek. But did it anyway. Upon reaching there, It was nice to see the waterfalls (u need to walk in about 5mins) but overall , I find the "park" not well-maintained. (my personal thoughts) .
Anyway, end up… most of us getting wet. What's the use paying 9RM and then not even trying the waters rite? And this is my favourite hobby…water, pool, sea, stream, waterfalls, springs, bath tub and if possible, the aquarium…whatever that I can soak in….I like!!! My eyes will gleam at the sight of water. hehe!
It was cool, shiok and there seems to be some sort of energy…. U need to go to where the fast moving stream or waterfall is. But u need to watch out. It is so slippery that u can end up falling. Also heard of stories that one can even drowned. So whatever it is, read some supplication or simple taawudz would do and be very, very careful…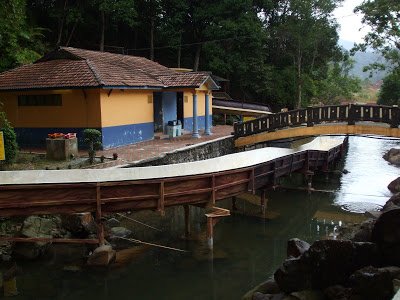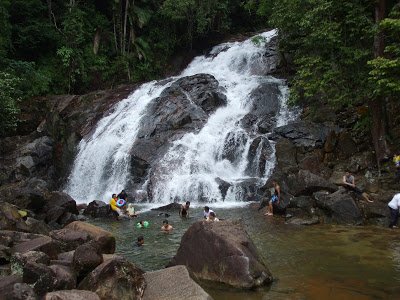 I did spot some chalets nearby, probably u can book them for overnight or weekends stays.
There is a trail of steps going upwards. When up there, it is beautiful. One of my friend smell something (like animals in the zoo kinda smell) and started asking "Is there any wild animals here?" the others just smack him silly….because "orang tua2 cakap, mulut jangan celupar…!" (old people often advise us not to talk rubbish in jungles, isolated nature reserve or anything..) that is a taboo.


After being recharged, we are headed to our next destination..but wait, feeling hungry? hmm, I think I spotted some makeshift roadside stalls selling some "ayam golek" (charcoal roasted chicken), roasted chestnuts, fruits stalls and "lemang" and rendang (they have these glutinuous rice in bamboo slowly cooked in charcoal here thruout the year not only on Hari Raya) on my way here… (Actually at the waterfalls, there are some stalls selling burger Ramly and sorts but too long Queue and limited workers) And again, there is a sign prohibiting people from bringing in food (but u can sneak them in….ssshh..)

Hey, they sell some colourful kites too and shiok heavy pillow (purely filled with cotton like olden days)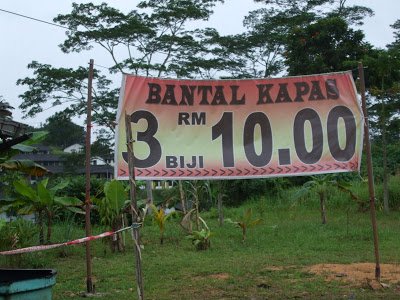 Oh, by the way , there is a HUGE waterfalls in Perak called " LATA kinjang waterfalls".(About 1.5 hrs drive from KL). I LOVE This waterfall! Favourite!! No need to pay any entrance fees….very natural and very high! U can see part of it it from the main highway. And the "orang asli" there sell some mean prawn flour fritters. Seriously….
well that is another story to be told… another time..insya-Allah.
To be continued..
(Visited 10 times, 1 visits today)