June holidays are always packed with activities for family gathering. This time round, I chose the relaxation path, the natural way…
It's time to let those tight muscles relax….join me as I uncover some interesting places in neighbouring country, Malaysia.
Have u seen Japanese shows where they show those hot springs where they rejuvenate themselves, soak, and relax and wish that u were there? Love that Japan hour show and at the same time, green with envy … But fret not, now u can soak urself silly!!HURRAY!
I know, Singapore has one such hot spring (Sembawang, jalan mata ayer) but not large enough for swimming/soaking…
These hot springs are also good for those with rheumatism, bone problems, skin disorder and many more.
Operating hours: 8am – 10pm daily
Sungai Klah Hot Springs Park36000 Sungkai Perak
Tel: +6 05 4414 493 or +6 03 2698 3833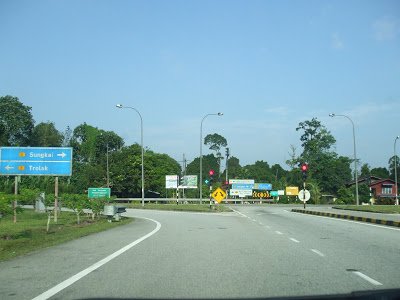 Anyway, without much hesitation, I shall present to you.. "Sungai Klah Hot Springs Park". u can even opt for a personal jacuzzi or even opt to stay there for a night (about RM500 per bungalow)
Located in Perak. Just about 80mins-2 hours drive away from KL.


Entrance fee is about RM10. Some hot springs need not pay a single cent for entrance fee (but that will be covered later).
Waterproof paper bracelet to show proof of entrance fee paid
Click on image to view the enlarge map of the park.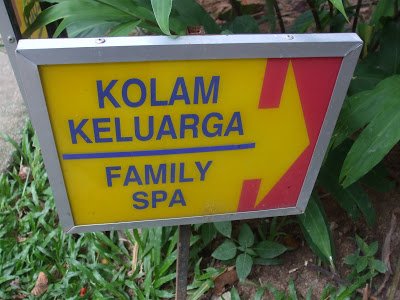 The mild hot spring
The second hotter hot spring for feet


This water park has many types of hot springs. They have the mild one which is a medium lake/pool for soaking, swimming (knee height). Kids can join too. Then there is another one which is 40degrees and above for leg (POWER!!!HOT!! I saw a chinese lady soaked herself in, I really salute her!) And lastly the hottest one (above 50 degrees)is for boiling eggs only (can buy the eggs 3-RM$1 from the food centre)
the hottest temperature is here….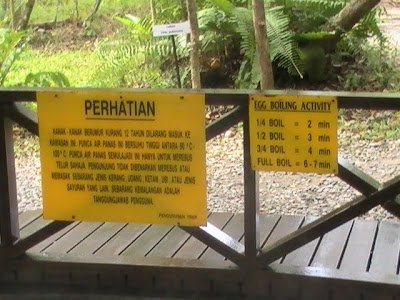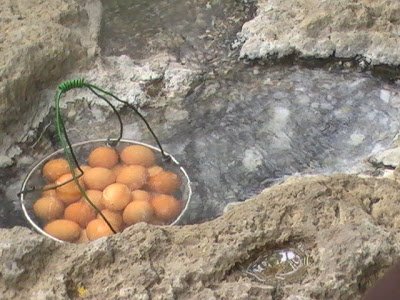 And another interesting area is the mountain spring water which is so refreshing cool and has been made into a water park with simple slide and water sprays all around and a pool for swimming. Not for kids only…
(Note: The mountain spring water pool and slide opens from 12pm onwards. )

Need to spend at least 2-3hours minimum. If possible, stay longer….not many people unlike Sunway Lagoon, feel like the whole park belongs to u. Attire: Anything except bare..
Note: The other pool is a bit dirty. If they have a large net (for catching butterflies) on site, I gladly remove any dead insects, hair , bracelet ticket and lots more in the pool.
Thru out the park, there are many fruit trees like cocoa, durian…and also herbal plants. Below is dragonfruit tree.

After the whole rejuvenating experience, u feel refreshed but hungry. Though the notice board specify no food to be brought inside, many bring their own.


But just in case, u have no food, not to worry, the "chef" (in food centre) there will whip for u some hot piping soft roti canais with dhal and sambal. SEDAP!!!

p.s: The next hot spring is much better than this. Believed to have some sulphuric content (belerang) This hot spring is free and only 2-3hours drive away from S'pore. One of my makciks believed that this one has some magnetic ,pulling power than the Sungai Klah. I felt it too…Where is it?
To be continued….
(Visited 6 times, 1 visits today)