Al-Ameen eating house(24hours)
2,3,4 Cheong Chin Nam Road
Tel: 6462 1996

Heard a lot of raving reviews from some male buddies about its garlic naan. Though this is a 24hour eatery, the naan/tandoori section only opens 11am onwards.
I have high expectation of this naan because knowing the area where I used to live prevously (near Tekka market) , I am used to having NAAN at least once a week.
Anyway,upon arriving…unsure what to order, we ordered some tandoori chicken (I also have high expectation of this) and was prompted by the waiter to try all the flavours of tandoori chicken. I asked whether it is a big serving but he said no, small. Okey then I saw "PAYA mutton". Been wanting to try these long time ago when I first saw it at its Woodlands branch. Okey…the waiter order the smallest serving for me.

Upon receiving the naan and tanddori bread.I expected it to be warm at least because we waited about 15-20mins. But it wasnt. So the breads are a bit cold. So to me the garlic naan bread is tasty but because its cold, it is disappointing. (sorry guys…)The other plain tandoori bread is a bit chewy (again because its cold). I'm sorry when it comes to NAAN, Im used to being pampered with hot fluffy naan fresh from its "oven".
The tandoori chicken wasn't anything to shout about.Again where I used to stay, I am so pampered by the wide choices of tandoori chicken that made me to have high expectations.
My tongue had been pampered…so the tandoori irregardless of what colour it is, taste the same to me. Only the green one (I called it "HULK" tandoori has a very slight, slight mint taste)
But the BEST part is yet to come…


The mutton paya which I believed is mutton legs are so yummy! So soft and succulent spicy! The gravy is nice to be eaten with the naan.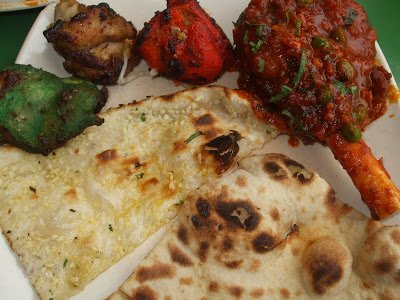 Within minutes, I fold my sleeves and just walloped the gravy not caring about passersby (I'm seating beside the road) and whether my mouth looked bright red from all that gravy! (Actually while waiting for my food, I watched this group of 20 year old males;indian,malay and mostly chinese eating bone steak with such shiokness that they dont care whether their mouths and hands are very dirty!! When U watched them , u feel like joining them too! heheh!)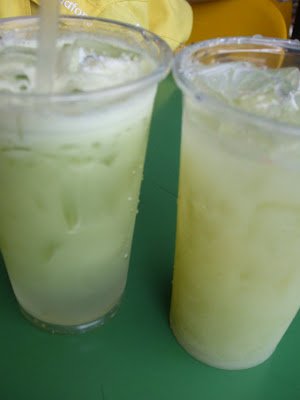 Green apple and star fruit juice (slightly sweet probably sugar is added)
total: about $25. I brought home some tandoori chicken leftovers.
My advice: just order the mutton paya and some naan. No need tandoori chicken. Small serving of mutton paya-4 pieces. More meat and flesh than bone steak….
p.s: This eatery has everything under one roof. They sell from typical western to indian food to naan tandoori to seafood. Dinner time is usual packed!
(Visited 9 times, 1 visits today)