Manjil Restaurant
(opposite the old Singapura cinema @ Geylang bus stop)
This place is often not packed as compared to its neighbours. But dont let that fool u…
One day I decided to have a try. My favourites are the PRATAs! They are freshly made only when ordered. So hot piping pratas served with yummy curry. Even the plain pratas (large size) are soft like the roti canai in Malaysia. Sedap!
This is how they do the masala dosai (filled with potatoes and vege)…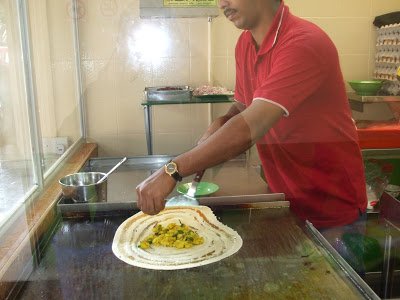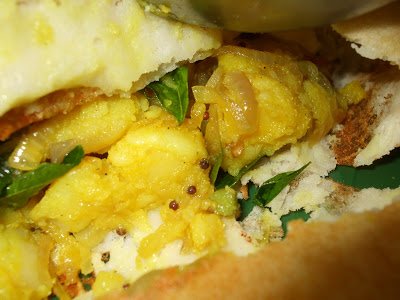 As for the Dosai, it is ok.
Anyway, what I noticed is that many came and brought back their naan and tandoori chicken. (When I first entered, the tandoori chicken wasnt ready. But after my tummy is filled with pratas and dosais, it is ready…ARGH!Missed..)
p.s: If u have tummy for banana prata(a favourite of mine), do visit:(in the same row of eateries):
http://www.linamasrina.com/2007/11/one-banana-prata-please.html
(Visited 11 times, 1 visits today)