I know some readers find it unfair that I'm enjoying all those "ayam golek" (charcoal roasted chicken) from Malaysia. And so for those who are keen to have a taste of what it is like,I've got GOOD news for u!!
This is the closest almost similar bbq chicken to ayam golek, SERIOUS!
Read this:
"Korean Charbroiled -Using only the most tender leg meat, it is marinated in a natural sauce made of 30 secret ingredients then roasted first with hardwood charcoal, then followed by earthenware. Definitely a must try at BBQ Chicken."
Sounds good isnt it? This Korean Charbroiled is not peg with a chef symbol/recommended but I got a gut feeling that its gonna be yummilicious! Wanted to try Jerk BBQ but it is spicy and since there are some kids present, I have to forego that, perhaps another time…insya-Allah.
So hurry down to:
BBQ chicken
Cathay Cineleisure Orchard
8 Grange Road Unit B1-04/05
Singapore 239695Tel: 6887 3638
or
Downtown East (E!Hub)
#02-121/122,
Pasir Ris Close
Singapore 51599
http://www.bbq-chicken.com.sg/
This BBQ chicken is on par with the ayam golek from Malaysia. So no need to hassle yourself with the passport , change to Ringgit currency and all that travelling in search of one…just head to Downtown East or Cathay Cineleisure…
They use 100% olive oil!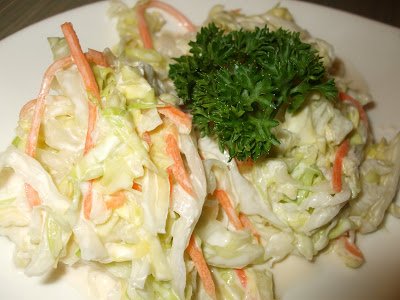 They are juicy, succulent, charcoal grilled to perfection and the best part is , it is BONELESS and have lots of skins! (Sorry, I am not health conscious when it comes to bbq, SKIN is the ultimately shiok part!)
The fish and chips for kids are good too! The fish are crisply yummy! But take note: the dip sauce given for the fish is somewhat like yellow mayonaise +wasabi (horseradish). The lil cousins give it a try and immediately let out a cry, because the spiciness will rise up to ur nose like japanese wasabi. Of course adults will love it. In fact, it goes well with the fries. I even ask for a refill of the dip sauce.hehe!

Their service is good and fast. They greet u and respond to ur request within seconds. One incident adds a plus point -I accidentally left a full bottle of mineral water (I always carry a bottle of mineral water in my bag).And they had cleared the table and throw away that bottle of mine. We left and went to the Prima Deli shop and one of the waitress actually came up to us and give us a replacement of another mineral water?! Initiative is a plus point!
Err, the bill…I chose the family meal that can feed 4-5 people(they have many types of family meal but they do not mixed the bbq with the fried chicken, I wished that they do) so it cost about $46 with 8 pieces of boneless thigh meat+4 servings of fries (not piping hot) and coleslaw (ok not bad taste) + 4 carbonated drinks (choices of pepsi, 7up and rootbeer), even the kid's meal free drink is carbonated. Dont forget the 10% service charge and 7%GST not included. So do the maths first before ordering…. heheh!
If alacarte, the price range is about $9-13 per meal excluding $2.20 for drinks.
p.s: I did try their original fried chicken once upon a time but I find it okeylah so did not try again….but they have many varieties of chicken there, Ginseng chicken, jerk chicken, spicy, tomato chicken, teri-Q stick… http://www.bbq-chicken.com.sg/menu.php
And those living northern , do not despair , they are opening an outlet closer to u:
Northpoint – Yishun Central and another eastern outlet in : Tampines One – Tampines Central
The pink seats below look comfy to u isnt it?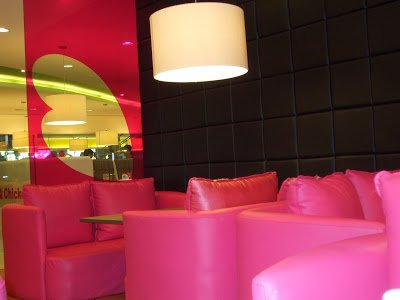 Not for those long legged ones. I have to fold my legs in or stretch it out. It is too low. But comfy…but for those 1.8m and above, please opt for the other options…perhaps, the green and brown seats will suit u best!
(Visited 6 times, 1 visits today)