Updated 23/3/09 : Griller is no longer HALAL-certifed. Read it here ….(thks Rezana!)
Where???

Keep visiting this blog to know the name and location of this restaurant.
(Hint: in Singapore)
The answer is….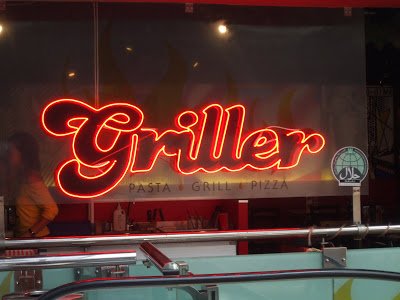 Tiong Bahru Plaza #04-05(outside GV cinema)
The first time I came here was ages ago, probably 2-3 years back when it first started. That time, I was impressed by the Assistant/manager. He somehow makes us so comfortable and serves us like a waiter in a 5 star hotel would. He creates his own initiatives without having the customer asking for it. That was a very good impression. And his staff are friendly too!
This time, I saw him again.I saw a namecard that states assistant manager. Hmm….But one thing I applaud is that this is one assistant manager that is an all rounder he serves plates, makes drinks…. How many asst. Manager can u see fold up his sleeves to wash the dishes? (No, I'm not "kepo" but the washing area is not enclosed)
Okey back to the food. They have never fail to deliver good food last time..and till today, I am still very satisfied with the size (big serving) and taste.
Wanted to order the braised lamb (want to compare with secret recipe) but we ordered fish and chips and turkey fillet (something unique). The turkey fillet was so juicy that my kids are jumping up and down asking for more.Seriously it is yummy. The cheese on top does not deter me. It wasnt so "jerlak". I have this fear of anything with cheese. I cannot withstand too many cheese unless if its in pizza.
The breaded fish and chips are nice too. Piping hot!
So my favourite has got to be the turkey…especially when dip in to the BBQ sauce given.
The drinks are not bad too. I chose the plum crush drink. The waitress kept asking me whether she need to add more plum (prune) juice in. But I think it is just nice.
The price overall is just nice. Just wish that the service will be as friendly as they used to be.(some waitress look blur, no smiles, no words spoken just gestures)
(Visited 2 times, 1 visits today)