This was recommended by someone in my facebook forum.
AEON TEBRAU CITY
(need directions?)
2nd floor (near KFC)
JOHOR BAHRU
MALAYSIA
Was told that LAMB STEW in Secret Recipe in Malaysia is better and cheaper than Singapore.So I want to try it out..
Didn't plan to go JB, this is one of the impromptu rendezvous that we always like to do..unplanned makan..
Anyway, reach the restaurant, the waiters saw us and didn't greet us or do something like direct us to a seat or something, all just make dunno…perhaps, we need to seat ourselves, self-service..
Then 2nd mistake…
A male waiter probably in 20s, came to take order…" One lamb stew please..", we have not finish ordering, he said: "Is that all?" (?!! puzzled)We just ordered lamb stew 1 plate..my other 2 friends have not ordered yet… Felt that the service is gonna be "stinky" today.Since the waiter was impatient, we rattled our order like the MRT.
Then along the way we decided to order more dessert, one of us put his hand up to call the waiter to order more but was ignored. We actually saw him seeing us but he pretend to act busy and pretend that he did not see our hands? (WHAT ?!?!?!)
I brought my digicam and click some pics of the restaurant here and there, then suddenly an important looking man served us the food with a smile and much politeness..ironically…
Anyway, the food came 10-20mins later , the cake and soba first, then fish and chip, stew was last…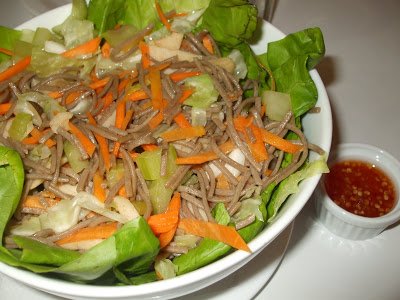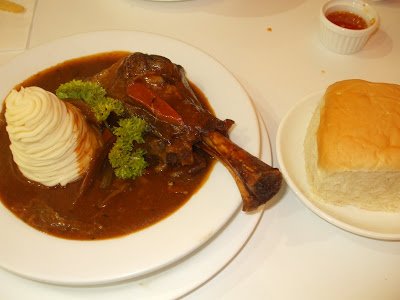 anyway, though was presented with bad service..I will still try to keep a neutral mind and taste the food, the soba noodles surprised us. I thought soba noodles came with soup,, I was wrong. One look,I thought it would be BORING and tasteless but it was nice with lots of fresh vegetables and chicken meat(a dry noodle meal but of generous serving).The lamb stew gravy was a bit diluted and the potato was cold but the lamb was tender and nice. Bread is cold. The fish and chips are nice.
Chocolate cake is good as expected…
Okay, so where to next? Secret recipe in Singapore? Hmm…
My verdict- if the food is exceptionally GOOD , much, much better than Singapore branch, I might close an eye on the stinky service but the truth, its NOT.. plus its stinky service…Guess, i rather try my luck back home.
More Secret recipe reviews:
http://www.linamasrina.com/2007/06/secret-recipe-johor-bahru.html
http://www.linamasrina.com/2006/04/secret-recipe.html
http://sparklette.net/archives/back-to-city-square/
An experience : My friend drove us there upon reaching the carpark and open the door, we were greeted with a lady giving out pamphlets and lucky draw envelopes promising of surprise gifts. My friend obliged and picked an envelope and suddenly the lady was so enthusiastically with high shrill voice ,shaking hands with everyone of us saying "CONGRATULATIONS!! U HAVE WON…declaring us winners of a secret gift which she cannot reveal but she will get 10% commission (sounds fishy isn't it?)
But she must bring us to the taman Molek or something to the main branch to collect the gift.WE probe what kind of gifts? I know from her voice I knew she was a scam but my friends are equally inquisitive and play along. I told them to let the lady pick another car and give our prizes to them. She said cannot..she must bring us…very adamant and persuasive.
i knew this must be the type of scam like in orchard road where those youngster present us with scratch card and when u scratch, it will promise u a prize like a plane ticket to Europe or branded goods and so on…and then they will bring u to a nearby building where u need to listen to a seminar/talk where they will sell u things like travel package, property or whatever. They will try their best to persuade u with many goodies…ARGH! Those "schemers"..
Funny thing is that she wants us to bring her along so that she can claim her 10% commission..very dangerous..bring a stranger along with u?!! What if she suddenly stick us up with a gun or knife at our necks and rob us as we allow her to be passenger of the car? Hmm…
And then why would she go to us, singaporeans with a singapore plated car? Because we easily "kena con" is it? Or perhaps, u think we are so gullible with pockets full of stash that we do not know of such scams…u pick the wrong group lady…just go to orchard road and u will see many of such "schemes"..
Anyway, I just pulled my friend away and tell the lady to give someone else the prize. We left the lady there. She was suddenly quiet..looking so "lost"(is that another gimmick for us to sympathize?) ..kinda pity her…
but anyway just to share my story so Singaporeans or anybody just watch out for that!Take precautions…
(Visited 5 times, 1 visits today)