VISHNU Cow Farm
No 6 Lim Chu Kang Lane 8.
Open from 10-4pm.
This reminds me a story way back…
I went for my grocery shopping in a supermarket. I was stopped by a popular dairy product promoter. There is a new product on launch which is 100% FRESH MILK , I think it is Magnolia.(forgotten about it, long time ago) She started telling me stories and then she state that most of the brands selling fresh milk are actually from powder milk.(Kena conned?!!)
I was like "WHAT??!!". She promotes her product saying this is the only FRESH one. Still not buying her story..I moved on and bought HL milk. She frantically said that even Marigold has other milk products, this is the authentic fresh milk. Hmmm… (how true was that? For me to know for u to find out heheh!)
Anyway, since that slap-in-the face- facts came about, I began to think..I need to visit a cow farm and search for Singapore's own fresh milk. I remembered seeing a cow sign board when I visited Hay's GOats milk. And so , another adventure begins..
When we arrived, it looked like a ghost town, on one saturday afternoon. I saw 2-3cars in the self made carpark space and met a malay family visiting the farm. Upon reaching, an indian lady direct us the way , we have our own "self-service tour" on our own. Was told that if u want to see the milking of the cows, u need to visit them early morning. Who knows, u can also milk the cows…hehe! (Seriously)
Anyway, the pungent smell greeted us while we were entering. My "groupie" dare not step into the barn. It wasn't really secured. I can see some cows trying to squeeze their big head thru the fence and some succeeded in bringout one third of their body out. It was intimidating. But I act tough (cows are vegetarians rite? So I dont think they will eat me hehhe! My subconscious mind is working hard to eliminate the fear) and proceed till halfway to get some photoshots.
Once finished, we went to have a hearty dairy drinking milk session and ate some plain yogurt. It was refreshing. They sold strawberry and chocolate flavoured milk on site (I dont see any being sold in supermarkets), but it's flavour is mild not as strong as the other famous brands. But the white milk was indeed DIFFERENT> VEry FRESH!!! Slurppp….
Enriching educational tour….
So next time, do grab VISHNU brand milk in the supermarket…(somehow the farm's bottled milk tasted better than in the supermarket)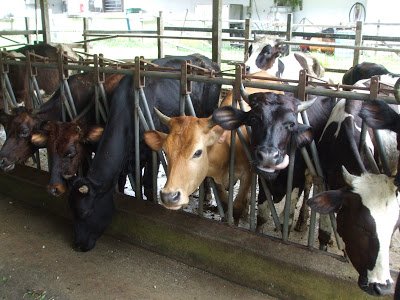 We said our goodbyes…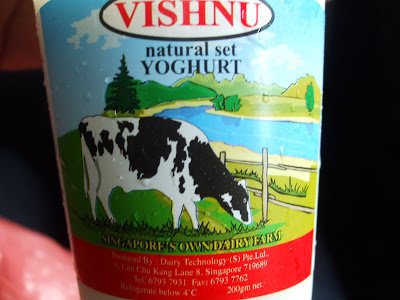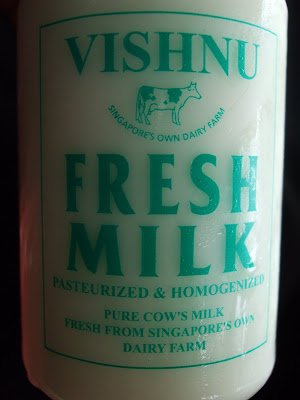 Along the way, I saw a dragon fruit plantation. The plant look like some sort of cactus looking plant.
(Visited 2 times, 1 visits today)