Previously I came here in search for its Bone Steak Opeh , satay and roti bom. I get to taste its one of a kind Bone stteak opeh but the satay and roti Bom wasnt available that day and so here i am for second makan session…

This time was much lively than that first trip here. It was half full when I arrived at 9pm.
Eh, Hijjaz, a nasheed group from Malaysia (recently they had a concert here) had even give them a THUMBS UP for it's bone steak Opeh!!! See the HUGE Banner?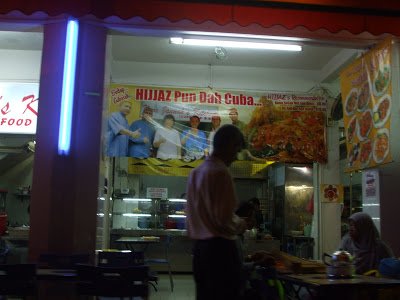 Yey! The prata man and the satay man are here..
The man who took our order highly recommend its otah-otah. I was quite hungry thus when he suggested that I order 5, I said ok. But when arrived 10mins later, I was shocked to see the otah-otah was like the ones in mackerel otah shop. It was double the size of the typical otah. Oh no? Is it $1 per piece? oopps….

But it is indeed true. It was served piping hot as though it was just bbq. They were very tasty and spicy. Can taste the fish. I dont mind paying even if it cost $1 each. (But later I found out that it could be cheaper)
Anyway after a satisfying otah appetizer. One of us ordered mee hongkong. My friend dont like the look of it. I told her she should have ordered beef horfun instead or asked for beef hongkong… since she dont fancy the seafood version which is full of fish cakes slices…prawns and nothing much.

It is different from typical mee hongkong , which has white colour gravy. This one is more black .Anyway, I like the gravy. I find that it is nice. But my friend beg to differ.
The roti bom is another satisfying order. It was crispy on the outside and soft on the inside. i chose the raisins filling. U can opt for cheese and other fillings too. The curry is nice too.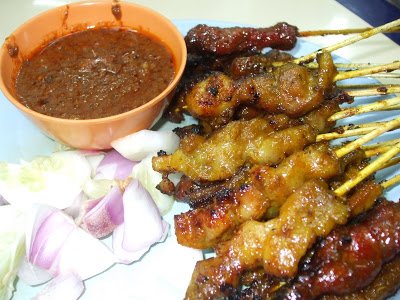 The satay was great! The chicken comes in chunks and i actually ordered whatever meat they got: mutton,beef,chicken,tripe… All are good! and the best is the SATAY GRAVY!!! i like!!!!Thick with chunky nuts. Reminds me of Al-Hambra satay sauce at gluttons bay.
Total -20 satays+1 roti bom+mee hongkong+5 otahs =about $20 (Do the math..cos I forgotten to ask its individual price especially the otahs..hehe!)
There are also many 24 hours coffeeshop around this area.
Read my previous post:
http://www.linamasrina.com/2008/04/bone-steak-hor-fun-upehfor-supper.html
(Visited 8 times, 1 visits today)