31/5/08-went to check again …the only HALAL-certified stalls are Chicken rice, yong taufu, Japanese stall,Ban Mian/Fish noodles and vegetarian stalls. Again double check for the HALAL cert whenever and wherever u are ordering…
NOVENA SQUARE 2 aka Novena medical centre
fork and spoon level 4
Nearest MRT-novena
This food court has many variety of food from as far as Korean, Thailand-vietnam, Japanese,ban mian, chinese fried rice, chicken rice, indian food fares, sweet desserts, hot desserts and lots more. Most have their HALAL cert displayed except a few.
Came here for my second visit….(March 08)
31/5/08-This THAI-VIET stall is NO longer HALAL.
Went there again but the malay muslim friendly chef is no longer there. Was replaced by a Thai worker who has difficulty understanding us (luckily, there was a customer who can help to get the message across). Confirmed that it is no longer HALAL. So please take note!! (furthermore Sensasi has gone a step further by calling up MUIS to double confirm. Thank you Sensasi, for your initiativeness.)
Ordered (the same malay chef was there):
Vietnam fried noodles (actually forgotten its name) tasted like char kway teow , but there is chopped peanuts at the side and lime.
Raw spring rolls

Yong taufu (has unique items like bittergourd with minced meat fillings, enoki mushroom and lots more)

Fried fish soup/Ban mian stall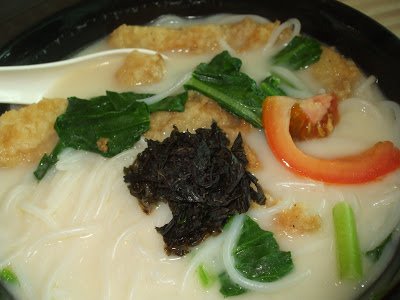 Chicken rice


My favourites are:
fried fish soup (soup is nice), yong taufu (broth is nice and has many unique fried fritters) and spring roll (but this time they forgot to include chopped nuts)
Read on my first visit here: (Also included their Korean fried chicken which was fried in 100% olive oil!So health enthusiasts, what are u waiting for
http://www.linamasrina.com/2008/01/tan-tock-seng-part-2.html
Updated:9/5/08 Watzdiz (thks!) has informed me that this Korean chicken is closed.There is another branch at Cineleisure. I'm not sure whether this is of the same company or whether it is HALAL-certified.. http://www.yebber.com/review/bbq-chicken/
(Visited 2 times, 1 visits today)