This is my first trip of visiting Batam. I often hear negative stories about Batam thus I kept procrastinating about my trip till I cannot hold it out any longer….
Well, whether those negative stories are true or not, I muster up all my courage and travel there. Being a traveller or backpacker, everywhere and anywhere can be DANGEROUS. I will follow the safest way/route and the rest I leave it to fate, be tawakal, insya-Allah all is well.
Furthermore I wasnt really satisfied with my last tanjung pinang trip and thus I decided to give Indonesia a second try.
On my last trip to Tanjung Pinang, I wanted to taste the street food but instead was ushered to those "tourist traps"…so I got some unfinished "mission" to complete.
Took penguin ferry +holiday inn hotel package 1 night stay (wanted HARRIS but read reviews that the hotel is old and small. The only tempting thing is its wooden baked PIZZA)
okey, so after ferry to Batam, the holiday inn staff welcomed us at the terminal. there was a slight misunderstanding. We cannot find each other for 40mins thus, as an apology (i think), they upgrade our 1 room to 2 room hotel (with balcony and living room). It was spacious. It had a great view of the swimming pool. It was new and comfy. The staff was friendly.Everything was perfect!
Then we join the shuttle service to NAGOYA town (SGD$6 per person to and fro). I thought NAGOYA was a small town but it was a HUGE shopping centre. It was enclosed. . This is another tourist trap. the shuttle bus lead us right to it. I felt suffocated. This shopping centre reminds me of Takashimaya (of course ours is much, much better)I felt trapped. I need to get out!!
Remember to take this map from the ferry terminal once u arrived in Batam at the information counter.Even the 4 stars holiday inn hotel do not have it but they do provide only photocopied map of Batam.
And so I immedately walked out of the shopping centre to its neighbouring food centres and street. There we went to a local nasi padang stall. Wanted to go to the packed one, it is so crowded. And so we decided to go to the non-crowded nasi padang. Okay..the food a bit saltish…okeylah…still not satisfied because there is no rendang.
But i tried their famous APOKAT JUICE .It is avocado juice mixed with chocolate syrup. I was hesitant to try it at first because I tasted avocado juice at Bugis flea market and found it to be "jerlak"/muak . But strangely, this is refreshingly GOOD! No signs of jerlak..probably the chocolate syrup is the answer. Or perhaps they add some lime juice…I dunno, I just guessed.
I went to the next door popular nasi padang stall and tapow back some food. I ordered kerikil lemak (tendon in coconut gravy), daun singkong is finished (popular indonesian tapioca leaves), rendang is long gone! So I ordered only the kerikil and tripe.
The nasi padang stall is on the left side (click to enlarge pic)
Kerikil is soft ,chewy and yummy.(In Singapore , u can find it at Garuda restaurant)
A close u of the kerikil. It looked like a sotong. A friend told me that Kerikil could be seafood. I done my research and conclude that it is beef tendon. But this close up makes me think twice…
Tripe was tender

Beside this packed nasi padang stall, there is a popular bakso stall. I see the orders kept coming in and the locals kept eating.
Yummy robust broth with springy meat balls! SPicy and shiok!
Then we went to its bustling street where I see many makeshift stalls. Selling all kinds of assortments.
Tiny mobile provision shops….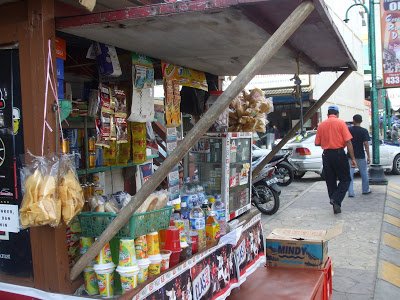 Keropokman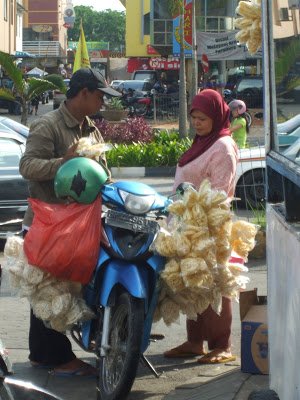 Cobbler on the move….


Fizzy sweet coconut juice anyone?RP1000 only=20cents.
Tried its fried fritters (mostly tahu and tempeh, tasted so good!), mee bakso (singapore mee bakso tasted like maggi mee broth, mild tasteless but this one is the real thang!), grilled bananas with chocolate and cheese toppings (weird but good!), many types of pempek (fish cake mixed with flour and has many types of fillings and fried/steamed eaten with vinegar soya sauce)
Fried fritters of tahu and tempeh (3 pcs =RPp2000) Must eat it on the spot, hot and crispy! Eaten with cilipadi for that extra KICK! POWERRRRR!
Grilled bananas with cheese and chocolate rice toppings (RP5000)
Pempek is fish cake of all types of fishes and there are some with quail eggs or chicken eggs in it. Some people called it "kapal selam" /submarine but in Batam, its known as pempek.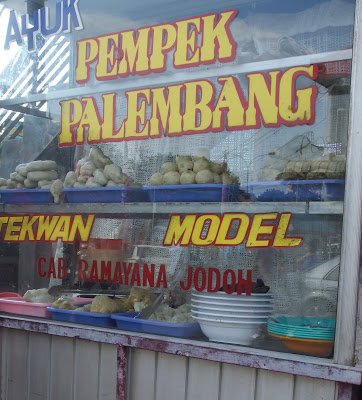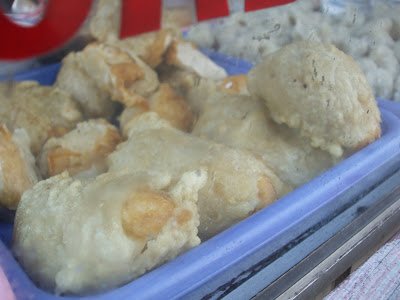 Biggest pempek is the special one which has whole chicken egg in it.
Wanted to try their satay but wasnt ready yet.(Indonesian satay , I think they poured the gravy over its bbq satay meat and rice cakes because that was what I had 8 years ago in Tg Pinang..satay in a bowl)
I think at night, Nagoya would be a blast because this place is famous for its entertainment and pasar malam of food. But also heard of its "notorious" tales too. So I decided to follow the shuttle bus back to hotel which is about 6pm.
If u think, Singapore is hot, here it is burning hot! Still searching for the indonesian rendang, we passed by an eatery many times but because it was covered in bamboo blinds thus I thought it was closed until one of us decided to buy a drink there. Then I saw the rendang. So black..so thick and it has those tiny potatoes too! I bet this must be very YUMMY!! 2 pieces cost only RP2500 about 50cents?So cheap…if in the shopping centre, expect the price to be 3 or 4X more..Indeed the rendang is so shiok like the ones I tapow from tanjung pinang. Very similar , very yummy!Once u taste this rendang, the local rendang will never enchant u again…
Directions: Once u exit Nagoya (shopping centre is at ur back), walk straight to end of street then turn right. The nasi padang has a bamboo blinds and it is small.
Then recce around….
I saw a BEBEK GURIH food stall at its ground level food court. I know bebek is duck. Ask whether its HALAL and then ordered a quarter duck for 15000RP=about $3. This is one of the yummiest indonesian duck I ever tasted. In fact this is the first and only ONE. It is marinated to its bones. And then grilled. Very soft and juicy. Shiok!!! So take note , those going to NAGOYA…
And to cool those blistering heat and to quench our thirst, we had the award winning (state in its signage) ES TELER- a sweet ice dessert (not shaven ice but crushed ice) with shredded coconut, mango and avocado. It is very sweet so u need to let the ice melts a little first before u consumed. Very refreshing… I wonder whether the local ES TELER has similar dessert?Hmm…
The next day , we chose to depart from Batam centre which has Batam Mega Mall. Didnt want the holiday to end so soon. So we shop again till night falls. Over there, we eat nasi padang (again?!!)for dinner before we say our goodbyes… heheh!
Look below… (the restaurant is the same as the tanjung pinang branch where I bought the kerikil)
Eat only what u want and the rest will be placed back….
grilled chicken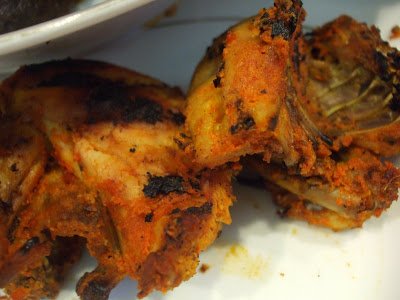 Sambal goreng (tahu+tempeh+gizzard)

Kerikil masak gulai (beef tendon)

I love this ikan bakar!!! I dont really fancy small fishes with bones but this one I ate 2!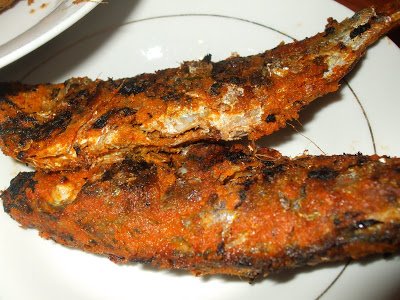 Green chilies are a MUST HAVE in all padang restaurants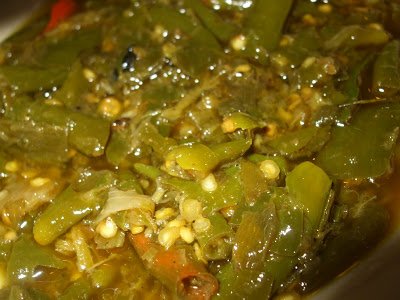 chicken rendang
This one has a unique name sounded like chinese (forgotten its name) but the taste is similar to gado-gado only sweeter. (ordered separately)
Mutton curry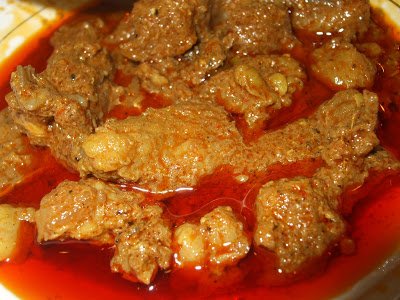 Egg curry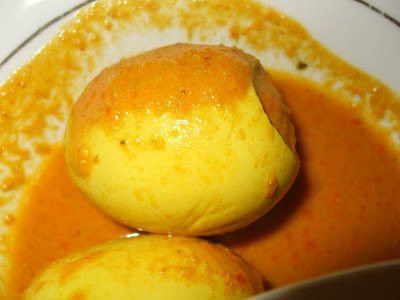 This rendang is a bit dry…
Overall the food is good.
continue to Part 3…
(Visited 8 times, 1 visits today)