This is my first trip of visiting Batam. I often hear negative stories about Batam thus I kept procrastinating about my trip till I cannot hold it out any longer….
Well, whether those negative stories are true or not, I muster up all my courage and travel there. Being a traveller or backpacker, everywhere and anywhere CAN BE dangerous. I will follow the safest way/route and the rest I leave it to fate, be tawakal, insya-Allah all is well. Of course lots of supplications(doa)and Quranic recitation as companion of any trip is encourageable.
Furthermore I wasn't really fully satisfied with my last tanjung pinang trip and thus I decided to give Indonesia a second try.
On my last trip to Tanjung Pinang, I wanted to taste the street food but instead was ushered to those "tourist traps"…so I got some unfinished "mission" to complete.
Harbour front centre

Took penguin ferry +holiday inn hotel package of 1 night stay=SGD110 per person weekends rate(wanted HARRIS but read reviews that the hotel is old and small. The only tempting thing is its wooden baked PIZZA)
This ferry is much bigger, newer and comfy than tg pinang ferry.

During the ferry ride of 45mins, I saw a Rotterdam-like bridge and a shiny futuristic building( in Singapore waters)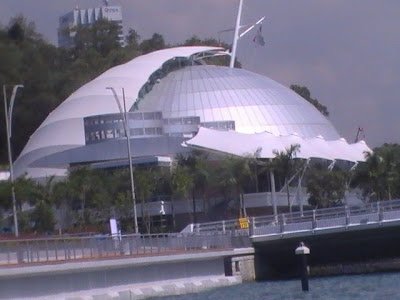 okey, so after ferry to Batam, the holiday inn staff welcomed us at the terminal. There was a slight misunderstanding thus we waited for more than 40mins searching for the staff and vice versa.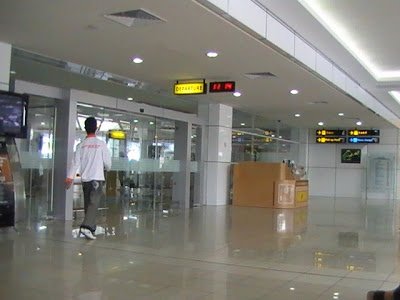 fyi- Batam and tg pinang is 1 hour behind singapore
So here is the 4 star hotel!
Holiday Inn
BATAM
WATERFRONT CITY
BATAM, 29422 INDONESIA
Hotel Front Desk: 62-778-381333 Hotel Fax: 62-778-381332
To book, click here!! (hotel's main site)
So as an apology (i think), they upgrade our 1 room to 2 room hotel (with balcony and living room). It was spacious. It had a great view of the swimming pool. It was new and comfy. The staff was friendly.Everything was perfect!

Wanted to go to Nagoya but the shuttle bus have left at 11am. We just check in. So we opt for the next one which is 2pm. (SGD$6 per person return trip-payable when check out)
Upon arriving, we checked our room…
The bed are so comfortable. We got many types of pillows. Sofa is so comfy that I can fell asleep on! The toilet with bath tub is clean and new. I dont mind sleeping in there too! (But won'tlah of course..u know toilet..Eeee..a place for ……)

Master bedroom

enjoining toilet +bath

Another bedroom with 2 singles
Balcony
Balcony view…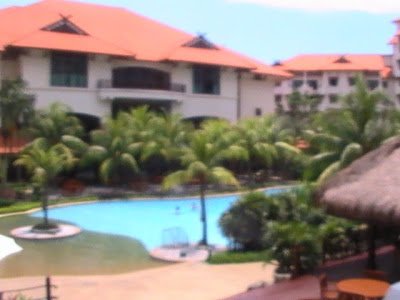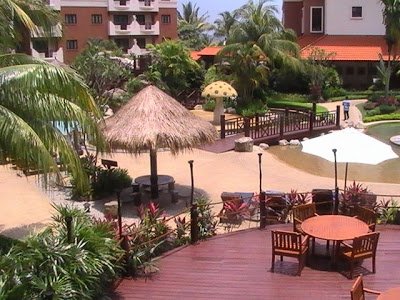 Saw a 4 wheeler bikes and many bicycles..I think its for the hotel guests.

Then i look at its room service menu…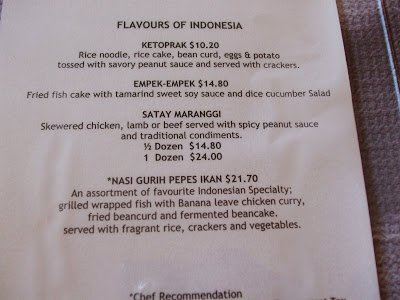 .

Smoke duck sandwich sounds yummy…..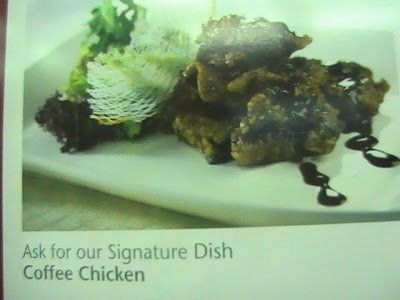 fyi-this hotel's specialty is "Coffee Chicken" , how weird is that? Maybe can try experimenting at home? hehhe…
Interesting choice of food but they use SGD currency so a bit expensive. Never mind later, can eat outside….
Though this hotel is 4 star, I do find some of its staff behaviour is 3 star… Of course the reception counter is exceptionally good. Just glitches here and there and some unorthodox method of doing things.But overall, they are friendly.
One of them is the unorthodox way of using the shuttle bus (way back from Nagoya) to transport some staff to work when they found out that there is very little tourist in the shuttle thus got many,many space. Although they did ask our opinions whether we mind or not but the real thing is we do not understand what he was really saying.(fyi-The driver's English is superb)
We thought he need to go somewhere to transport some goods but in actual fact "ferry" the staff to work. Sort of killing 2 birds with one stone. I felt that in Singapore, this wouldn't happen especially if u are a 4 star hotel.
But facilities wise….LOVE IT! And the swimming pool, u can wear anything except Nothing! So no need to wear my "ninja turtle" swimming costumelah…i saw an indian lady wore some sort of punjabi/sari dress and plunge in!i love this rule!! Only setback, the pool is facing the main restaurant so if u dont mind many eyes watching, then no problem!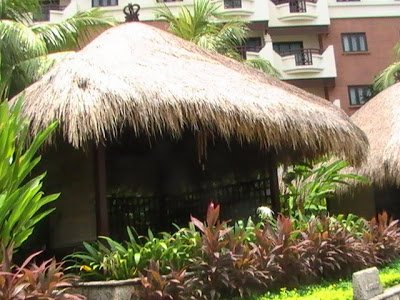 Then we saw a card telling us to relax if we forgotten to bring any toiletries..so decided to try it out….to see how true their promise is.We requested for shaver, toothbrushes and toothpaste.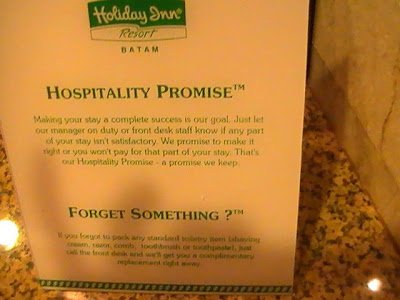 Waited for 2 hours, no response then we went to Nagoya and called again, the toothbrushes and paste never came. So minus points….never bother to explain why, just MIA. So this is another 4 star hotel should-not-do especially when u have the above card displayed in the toilet.
Breakfast buffet was good. Not much varieties but good. I love those chocolate donuts!! Porridge is another favourite.
Western buffet, love those mini chicken cocktail sausages!!
Nasi lemak, fried kway teow, chicken rendang, nasi lemak

Cereals

Porridge is good…

Donuts are YUMMY!


Fruits mix and yogurt
I am a bit apprehensive to taste indonesian fruit "buah salak" (the dark brown hard cover fruit like armadillo) because i tasted one in singapore, so kelat! (bitterish aftertaste) but this one luckily is not.A bit sweet.
Continue…to part 2
(Visited 4 times, 1 visits today)