Che Rose Nasi Padang
Blk 125 Toa Payoh lor 2
extended opening hours from previously 3.30pm to 10pm
Singapore 310125
email:kurdola@yahoo.com

This is one famous nasi padang stall located admist the heartland. Situated near the market, grocery shops, many coffeshops and hawker centre. It was bustling with activities.
They are well-known for their rendang and other nasi padang dishes (related to sabar menanti nasi padang @ Arab st) . They are one of the pioneers that bring "Nasi padang" to Singapore…for forty years , they have gone thru thick and thick…ups and downs of the "Nasi padang" business ..alhamdulillah, they succeed…
"Madam Rosmah, 75, affectionately known as Che'Rose by her customers, started selling nasi padang in Bussorah Street in 1958. Along with her mom and younger sisters, they started cooking dishes reminiscent of the home-made flavours passed from generations. These traditional recipes originate from their hometown in Pariaman – a quiet village in Padang, West Sumatra.
Life was hard in Sumatra in those days, so in the hope of a better life, Che' Rose followed her mother and aunt to Singapore to make a living. Unfortunately, during the journey, their boat knocked into a rock and sank. Fortunately, they were rescued by the marine patrol.
In the 1960s, her mother tried to make a living out of selling nasi Padang. As imported rice was a scarce commodity at that time. her mother tried to illegally sell nasi-padang during the ration during the civil unrest in Singapore. She was caught and remanded at the police station. Her mom pleaded with the officials to let her off as she did not know how else to make a living. The officials recognised her and had been patronising her famous nasi padang and let her off. They became her loyal customers eversince. Her little foodstall faced a little tombstone carving shop diagonally opposite – but that did not dampen the spirit as business flourished"….taken from their blog
Went here today, Vesak day…
Just re-open 3 days earlier after the whole coffeeshop went for renovation. I think I have some sort of "food telepathy" cos I felt it "calling" out to me thus I was there around 10am (hehe!).And I was in luck, because the shop just open, if I was there much earlier, maybe a week ago, then I wont have the chance to taste their authentic padang dishes..
Upon reaching the newly opened coffeeshop, there were many stand in bouquets of flowers and congratulatory hampers.
They have not put up their signboard yet but there is a small sign indicate that this is "CHE ROSE" stall. There were many chinese customers queuing for the food. We glanced at what they were ordering. Other than rendang, the lemak chicken is a hot favourite too!
So we ordered fried chicken, rendang (beef slow cooked in coconut and spices till dry), sambal terung (chillies eggplants), begedil (potato cutlet),ayam lemak (coconut spicy chicken)…
WOW! The taste is indescribable. I felt that I was transported back to Indonesia. The famous rendang was a bit dry but it was bursting with flavour as I chew a mouthful of it! Very nice!
They also sell bone steak, gado-gado,bakso, mee kuah, roti john and more…
Rendang…
Next favourite is the sambal terung. the chilli was fabulous and the terung was soft and creamy.
We ordered fried chicken,begedil and lemak ayam. All are equally sedap!
Lemak chicken
Yummy crispy well marinated fried chicken
Begedil/potato cutlet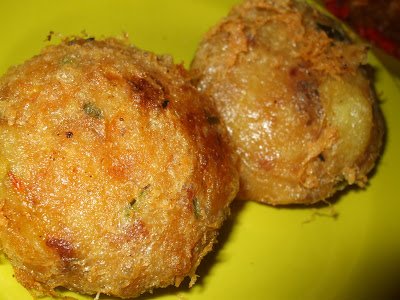 total cost for 3 people- $16.
Then one of the owners came over to chit chat with us (voluntarily). She asked us where are we from and was surprised to hear that we came from afar to try out their nasi padang. The she told us that this year is their 40th anniversary and they will have a celebration (by invitation only) with Mediacorp and others. (I believe if I asked, I will get one invitation too! But I'm not from Mediacorp but Mediaflop hehhe!)
She is very friendly and make us feel at home. I think I saw the famous "Che Rose" sitting in front of the stall. She looked younger than I expected and very agile…
Anyway I like this kind of extra customer service.They are willing to go the extra mile. Good FOOD + extra good service spells S.U.C.CE.S.S.
What's my verdict? Look at the picture below….
What a yummilicious brunch I had! So, what are you waiting for?
Note: RENDANG Wrap, anyone? Where? Sourpuss cafe @ Esplanade (previously known as 2 hot halal cafe). I think the rendang are from the same person …read more here:
http://cherosepadang.blogspot.com/
p.s: I think I ate too much of rendang and those coconut "lemak" chicken for this month. Its time to burn those fats! So if u guys had fun reading this blog, feel free to click ZILLION times on those "CLICK ME" . Let those advertisements pay for my gym membership.Seriously I need to slim down, any slimming agency want to sponsor me? *LOL
(Visited 26 times, 1 visits today)