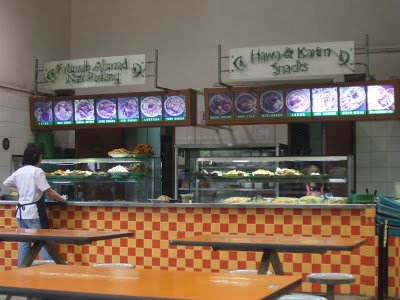 Azhar(thks!), one of this blog visitor,
suggested
that I try Kopitiam Techlink's food…and so I did.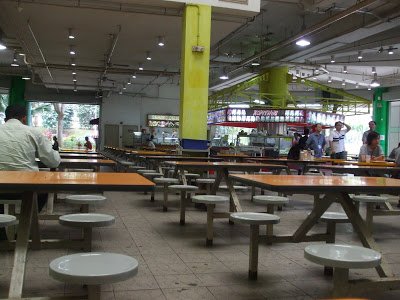 1)Fatimah Ahmad Nasi Padang
2)Hawa and Karim Snacks (mee goreng, curry puffs)
(both are from one owner)
Kopitiam
Techlink #01-01
31 Kaki Bukit Road 3
(S)417818
fyi-open to public, best to come around 11am to beat the lunch crowd (suggested by Azhar (thks! again..)
Ok, I wasnt expecting anything. It looked like typical kopitiam canteen. Their signage wasnt litted up, thought it was not open yet. I came early about 10.30am. but it was ready.


The nasi padang look so tempting. I saw the fried tempeh (fermented beancurd) and i know it will taste GOOD! Because the tempeh is marinated and fried with spices like the indonesian does. And the sotong (squid) is so soft and yummy! The sambal goreng (mixture of cooked tahu+tempeh+vegetables cut into cubes and in sambal) is so nice…. it felt so good. Felt like home-cooked meal. So good….and cheap! Only $3.50 and they are generous with their servings! (So those who live at Eunos or Bedok Reservoir, take note!)


The mee goreng is nice too! Like typical malay mee goreng with sambal which makciks like to make especially during picnics….$2 only plus egg.
Seriously, the nasi padang is nice…and since my plate has no more space ,I ta-pow the yummy looking fried chicken wings. I know they will be good from their "appearance". True enough, it was yummy! "Rugi kalau tak beli!" (It's a big loss if u never try)


I did try the sardine puffs and banana jemput-jemput (banana ball) but both are so-so in my humble opinion.


So enough said….I felt so sleepy after a wholesome lunch! Zzzz….
(Visited 23 times, 1 visits today)