Fish Delights
#02-48
AMOY ST food centre
7 Maxwell rd
(nearest MRT-TG Pagar)
open as early as 7am (porridge ready)
8.30am onwards – all others in the menu will be ready
closes at 3.30pm but normally finishes by 2.30pm.
Sunday till Friday

This place is reviewed by Berita Minggu (Malay newspaper) , few weeks back.

When I first tasted this noodle, I dont expect much. It looked so ordinary. Bt when I tasted the broth. WOW! And the "thick bee hoon" (like rice noodle) is soft. Lots of fresh vegetables and lots of yummy fresh fish slices. I sip the bowl till dry.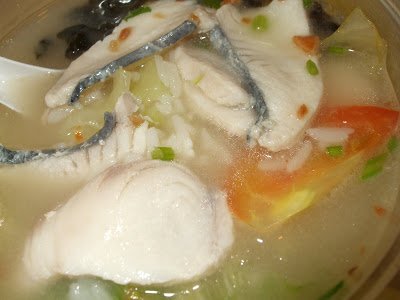 There is congee and teochew porridge. I think the congee (chicken or fish $3, if add egg, $3.50) should be the thicker porridge while the teochew porridge($4) is rice+fish broth like in the fish slices soup.($4)
They also have fish head soup noodle….
Verdict: What I like about this stall is that , its not just like any other fish slices soup that u found in BANQUET or any food court. This is exceptionally good, like homemade. No MSG or extra seasoning can be detected.And they are quite generous with the fresh fish slices. It's as good as making them yourself. What better way to start off the day with a healthy breakfast like this?
I was informed that there are some other stalls that are quite good here…have not tasted them though..
The "neighbours" :
1)Ayam Power Cuisine
7 Maxwell Road #02-87
Amoy Food Centre
SPECIALITY: Ayam penyet
2)Rafee's Corner (Since 1958)
7 Maxwell Road #02-85
AMoy Food centre
SPECIALITY: Teh Halia and Halia Honey Lemon.
(Visited 6 times, 1 visits today)