The place to hire boats to Penyengat Island is just beside the main Tg Pinang ferry terminal where u arrived from Singapore.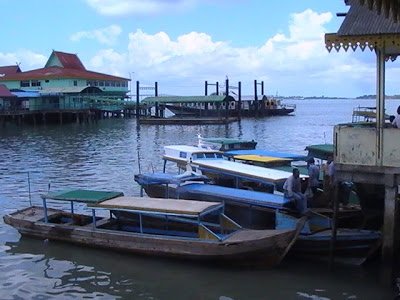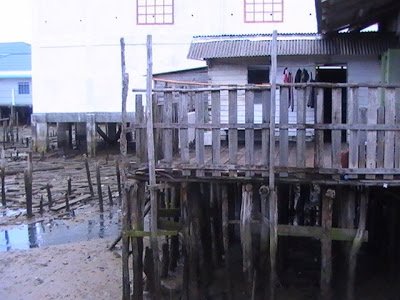 This is our ride to Penyengat Island. Such a big boat for us….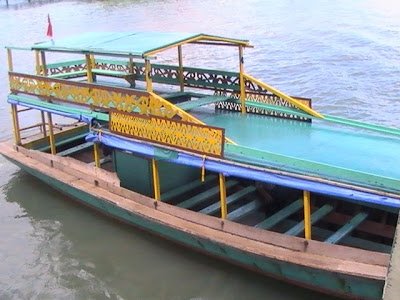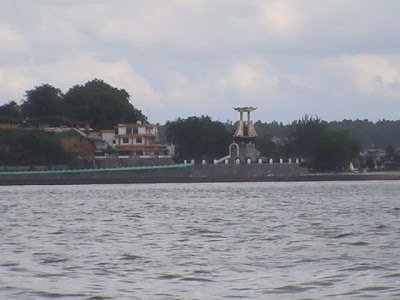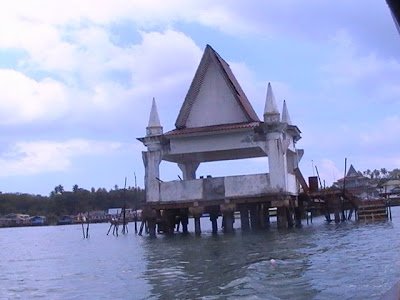 Reached Penyengat Island..at last..(20-30mins ride from mainland)
Welcome !

Actually it has been my wish to visit Penyengat Island to see the famous mosque which uses egg white as one of the building construction materials. It has been my wished since 10 yrs ago. (That was my last visit). I kept coming here decades ago to help out in fund raising of some madrasah school. There are quite a number of mosque in Tg Pinang that is funded by Singaporeans. Alhamdulillah.
Anyway, previously I came with the locals so I spent minimal on food and lodging and I even took the public transport which is the van or motorbike. But this time, I came as a Singaporean and so the "tourist trappers" have sniffed us out from the jetty iteself…heheh!
As my mind was rusty, I am still adamant to go backpacking on our own. But too bad, my travelling partner cannot "tahan" and gave in to their recurring request to take their transport. Furthermore, seeing one of them limping using a cane to walk (could be a decoy but I hope not), my partner just went weak.
Anyway, we went into the van (RP100,000 rip off) for the halfday trip (supposed to be whole day trip but half day gone to penyengat island) around Tg Pinang. Wanted to go to Penyengat island but decided to back off last minute because we are here only for a day. Time is precious to us.
But these "bodyguards" already booked for us. Reluctantly i went but alhamdulillah, was very glad I did. It was an eye opener! And the boat that we get is much bigger and very spacious since we are the only people on it. Kinda like superstar when u see the other boats crammed with locals. Then being Singaporeans and with sunglasses as big as the Hollywood actress with digital cameras and video cameras, they tend to like "who is that?" or probably they laughed "who is the next victim of this RIP off scheme??"
Anyway, Penyengat Island is like a kampung-style town. Very like kampung in Malaysia. Went around the island on a "motorbike trishaw" and it wasnt a smooth ride. There were gravels , unfinished road, rocky finishes and so on. It was a bumpy ride. Well, that is fine with me. I get to experience a different kind of transport.
I like the villagers. Very friendly and they have lots of interesting stories to tell u. I think if I got the time, I can sit and enjoy a teh tarek session with them while chit chatting about Tg Pinang history.
We went on Friday and was in time for the friday prayers. My travelling partner was lucky enough to get the chance to pray inside.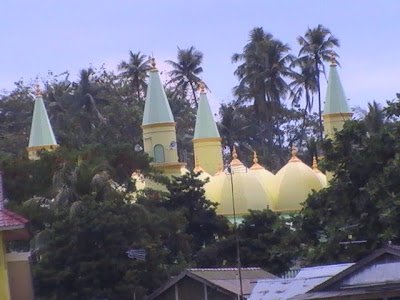 For me, I just get to see the mosque from afar and enjoy the Mee soto at the kampung stall.And the mee soto cost RP12000 (another rip-off?!) I realised that whenever these bodyguards are with us, the prices tend to escalate when we buy things. It's like we are going around with 2 mascots (with a signboard -"Please raise the price, they are tourists")


Luckily the mee hoon soto is nice. Best eaten with the green cili padi sauce. Sure perspire!
This is a special ferry terminal for the Royal family and other VIPs to Penyengat Island.
This is like a museum or enhibiton centre for the diplay of the locals wedding ceremony.We did not go inside.

This is underground well. (below the exhibition) People of all races and all religion who knew about this well has come down to drink, bathe and even bring back home for cure of all kinds of ailments even includes those who refused to marry.

This man has many tales to tell us. He told us of all the people that come with a clean mind and clean heart and clean intentions to cure all kinds of weird or great illness that has no cure. Alhamdulillah, they are cured after drinking this water but of course if God wills it.He says weekends are very popular and crowded.
I came with no intention. But his persistence (to ask me to taste the water) paid off. I tasted the water. It tasted like fresh spring water.Very refreshing. He told us that a group of people came and drink the water. Ther was a man who did not believe it and tasted the water like the others. He went home having tummy ache. But the others did not. Hmm…Lucky, I didnt.. "Keajaiban alam yang telah diciptakan Allah"
Mausoleum of King Jaafar and King Ali

These are where the Princesses or Queen took their bath…
Cemetery of King Jaafar(1806-1831) and King Ali (1844-185)

Mode of trasnport-motorbike trishaw around the island (RP100 000- a RIP OFF), please bargain first before u ride.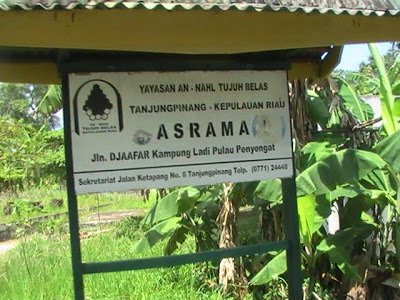 Another mausoleum


Variety of houses in Pulau Penyengat..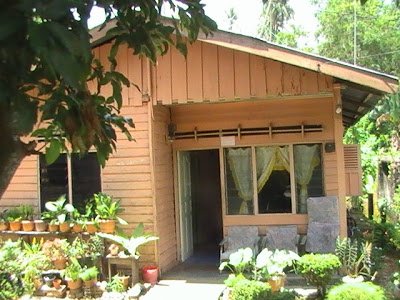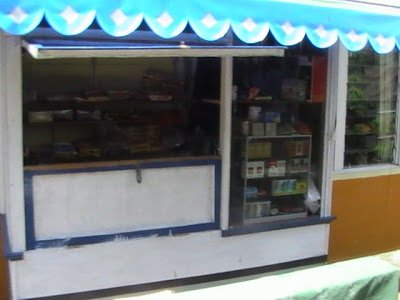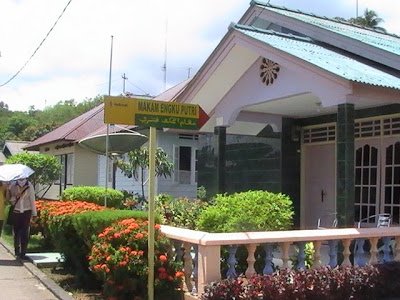 Mausoleum of King Hamidah (Engku Puteri) 1760-1812 and the others.
Getting to know the locals..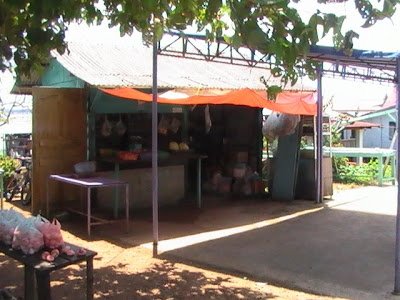 Majestic entrance to the istana (where the Royals lived)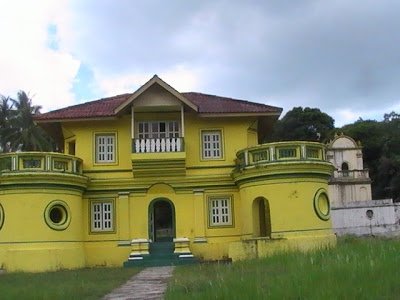 It is said that this istana is related to the Istana at Kg Glam(near Arab st). See the similarities in architecture? It was said that these buildings has survived bullets and cannons.
Both are some sort of a well..

What is left of the ruins..

Goodbye Penyengat! It has been such an enriching tour…

As we reached tg pinang mainland, it began to rain, so these bodyguards hurriedly brought us to Ramayana shopping centre like GIANT superstore, all under one roof.Even when we were shopping, one of them followed us, I was beginning to feel "suffocated" like Britney Spears and try to shake them off.Hehe!
My partner even ran to opposite restaurant to tapow some yummilicious rendang home.(oh without these bodyguards, the rendang and 2 more dishes are very cheap!)
After u tasted these, nasi padang in Singapore wont be the same for u anymore. Nothing in Singapore is comparable to these….
Bundo Kanduang restaurant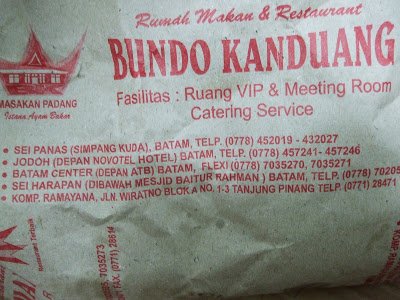 I LOVE this RENDANG, so shiok!! So sedaplicious and flavourful that even the (tiny potatoes with skin) are so delicious!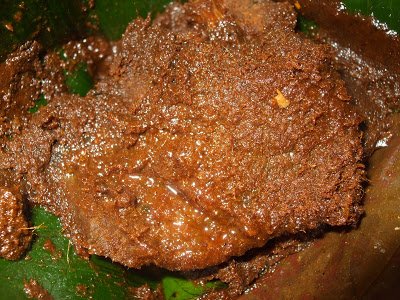 and this exceptionally good fried chicken..
and traditionally grilled chicken…aka "ayam percik"

*drools….
Fyi-This is the SUV with all windows tinted black (thus cannot snap pics) like a Man in black transport. Dont be fooled by its appearance. Inside, no radio but got mini fire extinguisher. I was tickled by an incident whereby there was as long silence in the car and since there isnt any radio, one of the "bodyguards" actually entertain us by playing the mp3 songs in his phone which is about 3-4 songs and kept playing it over and over again. I felt entertained, really?

Anyway we went to about 3 shopping centres and did not buy much stuff. Their shopping centres isnt as modern as the ones in BATAM.(Batam is much cheaper) I can see their fashion sense is way back and the imitation goods are really "imitation-looking" that even my grandma can detect (like football jerseys or whatever).We bought some stuff from the supermarket. The rest is history.
Rushed back to the ferry terminal. Need to go to the ladies and that is where my partner was surrounded by hungry vultures. These "bodyguards" already rip us off and still got the cheek to say "if u want to add more $$ for our service, please do so". They know that they wont get a cent out of me and knowing my partner weakness, they prey on her. I did warned her much, much earlier. But i know that she will relents because she like to pity people. She has a kind heart. hmm…
My only regret is that I did not get to taste the food at those push carts. The fried fritters look so tempting. Oh well, the tummy is full of rendang anyway…Alhamdulillah.
p.s: creambath is very popular amongst Singaporeans. It is the scalp massage+hair conditioning +head and shoulder massage (about 30mins-1hour) with shampoo and stuff, i think…only S$10 in saloons. Did not try though.
(Visited 7 times, 1 visits today)