The last time I travel to Tanjung Pinang was a very long time ago probably 8 years ago? So when I saw the ferry terminal at Tanah Merah, I was amazed. It looked very like a changi airport ,felt like I was going to take a plane instead of the ferry. And so my expectation rose and thought that Tg Pinang has "upgraded". I was mistaken..
The ferry looked and smell the same like before 8 years ago. Then I felt that I should lower down my expectations. True enough, not much changes can be seen in Tg Pinang. Maybe there are more commercial buildings and stuff and the road are much wider and stuff but to me,its still in the same state. Only difference is that the prices are exhorbitantly high as compared to BATAM. But BATAM at least changes and have a modern look.Even the shopping centres in tg Pinang is like those in Toa Payoh central. i meant the fashion…
Anyway that is my opinion. I always come back because I have not fulfilled my travel to Penyengat Island. I longed to see the mosque made in egg whites. I longed to see the island and its people. Well, insya-Allah..my wish did come true. Though I wasnt planned on going this time…somehow its fated. Thus I'm able to close this chapter on Tg Pinang. No more going there unless there is a reason (like wedding, fund raising event thingy and stuff).Alhamdulilah.
Fyi, this is a one day affair…. no overnight stay at hotel,hostels or lodgings. Did want to try out the seafood at kelongs but my "bodyguards" (want to know who are they? read my part 2), said that it is extremely expensive…Hmm…
If u want to park ur car, overnight or many nights…the rate is about $14 for 24hours.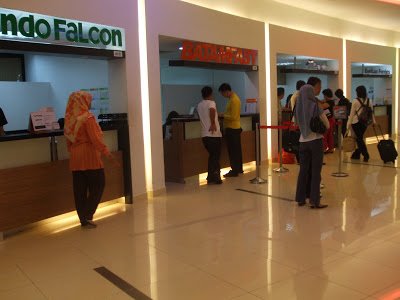 Ferry operators, call them here…

Baggages or luggages? Click here for more info!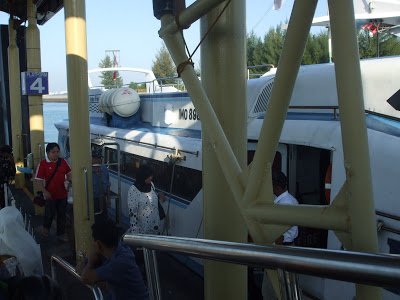 We got a card individually (even for babies?!!) and then u need to scan from Spore ferry terminal and also here at the entrance of the ferry… (then u just leave the boarding pass to the staff)
Bought this inside the departure hall for breakfast. Very juicy chicken buns unlike the ones I had at harbourfront BANQUET when depart for BATAM. But then,they have handmade fish balls over there (harbourfront BANQUET) which are yummy! But that is another story, another post…

This is the ferry I took, FALCON.
The ferry terminal in tg Pinang mainland…Port of Sri Bintan Pura.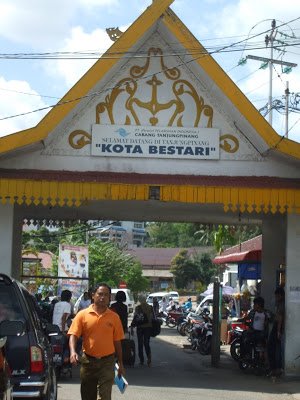 Mode of transport is the motorcycle taxi called "ojek" and the van (below) is the public transport…

My experience in riding the "ojek" is that it is fast and can manouvre thru zig zagging thru the traffic but take it if u are a male and not scared of riding with strangers. I rode with a familiar uncle which my local friend knew.(last time) As for the van, it can be quite cramped ,hot and stuffy (no aircon)especially if there are smokers…I felt like in a gas chamber or something. Very cheap mode of transport…Trylah..
U can stop anywhere u want, make sure u inform or ask the driver first and the price…but bear in mind, along the way, they will pick up other passengers…a bit time consuming but u get too see the local streets and mingle with the locals…like taking the bus only that there is no designated busstops/van stops…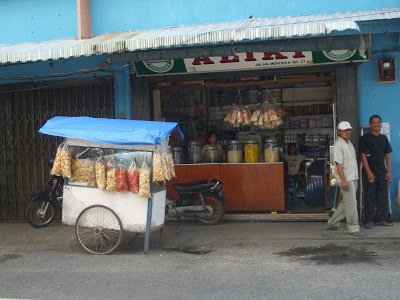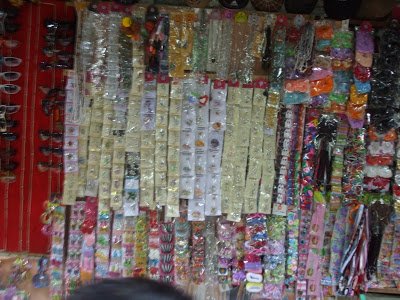 The shopping centres are neatly organised as u can see in the pics…nice indonesian kebayas, curtains (s'poreans normally send cloth here for hari raya tailor made curtains). There are supermarkets like matahari (Batam) and RAMAYANA (tg Pinang) similar to GIANT. They sell food, lots of instant noodles, fresh food, snacks, clothes,writing materials,toys…EVERYTHING! Including… motorbikes. All under one roof!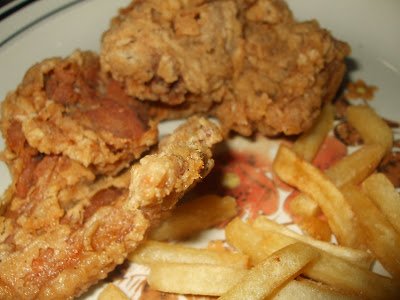 Yellow is the passion fruit juice.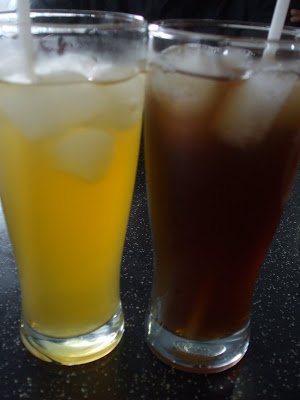 We went to this fastfood eatery while waiting for the "private taxi". This is a fried chicken outlet. nothing to shout about .The chicken are too crispy. But the crispiness is tasty. The meat though is tough cos its too fried. Tried the buah susu juice…tasted like passion fruit . (are they the same?!) buah susu that I know is orange in colour and inside there are many seeds like promegranate and it tasted like milk hence the name "buah susu" (milk fruit).Alamak, I just found out that they are indeed the same..click here! So the indonesian vendors that sell buah susu in geylang area or market is actually selling passion fruit. Hmm…now I know…but then it doesnt taste like milk…?!! .2nd hmm…
After penyengat trip, we went to have late lunch. This is one of the local popular food located 5mins near the ferry terminal. We came too late by 2pm, their rendang is gone. Open around 11am. These are not like the padang restaurant food but more to kampung local indonesian food.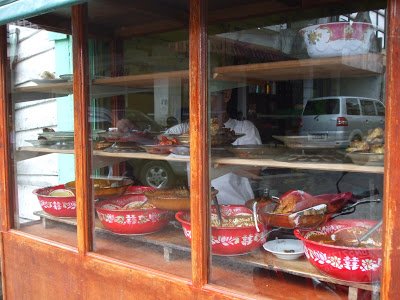 I like the fried chicken (local chicken tasted like kampung chicken). We had the last of the fried chicken wanted to bring home some, but need to wait for 20mins for them to fry fresh new ones. So did not wait…
my favourite fried chicken , YUMMY! Tasty and full of vibrant spices


Dendeng sapi pedas (thin beef slices fried in chilies)

Sotong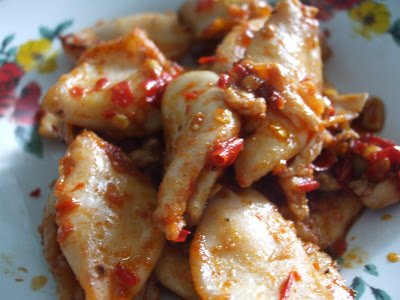 Urap (malay salad fried with dessicated coconut)

Prawns in lemak


Curry chicken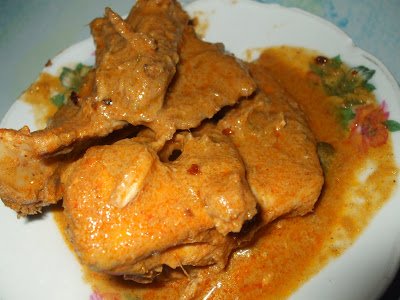 Sambal prawns
Grilled chicken (local chicken looked like kampung chicken)
Love everything except the sotong (cuttlefish) which is very saltish. I asked the food to be "hidang" (all the different types of food that they have or recommend laid on the table and eat only what u want, the leftovers will be put back…this is typical way or if u prefer , u can choose at the counter and placed it all on ur plate). And always ask for "lemak" (coconut milk ) gravy for ur rice. To me, lemak gravy in any indonesian stalls are YUMMY! But got to watch out for that cholestrol level..
So the price..? Cannot say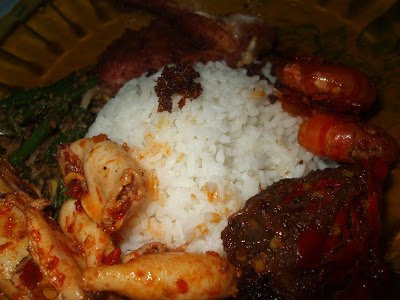 because by right it supposed to be very cheap…but cos I got 2 "bodyguards" beside us, thus their price is "jacked-up". (I remember 1-2 rendang is about 2500RP (divided by 5000 =SGD$0.20) when we went on our own later on.. )
Anyway, I was so craving for rendang and "kikil" (chewy beef tendon but then someone told me it is seafood?!!? )everywhere I head seems that it is finished and kikil cannot be found at all. But later we went to Ramayana supermarket and there is one famous Padang eatery nearby…and ta-pow some home…continue on part 2….
p.s: For return ticket back, u need to go to local ferry ticket shops (u can see the ferry logo on the shop) near the ferry terminal and book ur ferry timing back home.Do it as soon as u reached Tg Pinang because especially weekends sometimes, there is no vacancy.
Ask around on the tax $$ needed to pay for securing the ticket home. Also u need to pay another tax at the ddeparture gate at the ferry terminal. (Hmmm, how many taxes should i pay? Have i been duped?)Go around and ask because sometimes, they may jack-up the price knowing u are unfamiliar tourist…or worse like me, they may ask u to pay many taxes.
If anyone wants to help u out like showing u the ticket shop, be wary.. sometimes they ask for money in return. Dont worry, there are many ferry ticket shops around the ferry.
(Visited 9 times, 1 visits today)