Kampong Glam cafe
17, Bussorah Street
Singapore
Telephone: (65) 9385-9452
Category: Coffee & Tea, Coffee Shops, Malay & Indonesian
Roti kirai +chicken thigh curry =$3.50 (highly recommended by beetle.Thks!)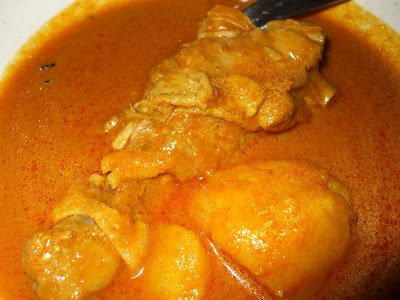 All soaked up!

Teh tareks are nice!
Nasi Rawan (buah keluak, tetel gravy)
The pics looks tempting but a pity that the gravy is not thick. Just ok in taste.
Malay kueh (forgot its name)


This kueh is very savoury and soft. Yummy!
local favourites here: roti kirai & chicken curry , gado-gado, fried chicken(heard it is good too!) and malay kuehs (ramly burger is available too!)Most food ready by 4pm onwards. Other than that, mee soto (2pm onwards) nasi padang (12pm onwards)
I've tasted the roti kirai. Soft and yummy plus chicken curry. But Im not an avid fan of roti kirai ,so 3 pieces is overwhelming for me. I think 2 is very filling! Another hot favourite I saw is gado-gado. Had the urge to just snap some pics of gado-gado at other tables but hold myself back. hehe!
Other food stalls/restaurants found there…
Nearby attractions:
Malay heritage centre
85,
Sultan Gate
Singapore 198501
Republic of Singapore
Main: +65 63910450
Fax : +65 62994316
Museum
Mondays: 1pm to 6pm
Tues-Sun: 10am to 6pm
Istana Compound
8am to 9pm
Cultural Show
Wednesday, 3.30pm


old refurbished istana of kampung Glam Do u know that the name GLAM is taken from gelam trees that is grown there?

Bugis boat/perahu
During the birthday celebration of our beloved Prophet Muhammad (s.a.w.) at Arab street…
Arab st bazaar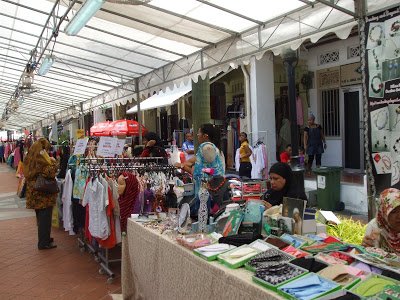 Another bazaar at arab street (in front of Sultan mosque and Kg glam cafe), there is DJ too! There are cars for sale, clothes, accesorries…food..

Look what I found!!


Asam (orange)and bandung flavour.


Missed these ice popsicles aka air batu!!missed thoses red bean, chendul and asam flavours during my childhood days. MAlaysia kampungs still make them though.Found these at the bazaar stalls. 50-60cents each as compared to 10-20 cents ages ago!
Mini bazaar and exhibition at Sultan Mosque

Arab street is lively on saturdays and at nights (weekdays & sat). But sadly, sunday is a "ghost-town". Preferably if they could change the "off-day" to friday, that would be more appropriate (my opinion, but what do i know?!!hehe!)
Dont forget to stroll to Majestic "Gotham (batman) -looking building" aka
Parkview Square
To view pics, click here..
(Visited 4 times, 1 visits today)