Anonymous (thks!)suggested that I try the steak at this place..
J's wok and grill
Blk 527 Bedok North Street 3
#01-514
Singapore 460527
Telephone: (65) 6345-7155
From this blog:
http://www.linamasrina.com/2008/02/js-wok-and-grill.html
It looked kinda posh but its actually situated at the void deck of HDB flat. Was told by anonymous that the T-BONE steak is HUGE!! (this is one of my many weakness) *drools…
Wanted to check it out last night but got lost, me and my simple mindedness got the blk number mixed up so end up at 511 instead hehhee! Anyway after circling the area , i gave up heheh! Next time perhaps…But then think again…ader hikmah nyer (blessings in disguise) cos I did not bring extra $$$. I thought it was like a coffeeshop stall. Lucky..or else i might end up washing their plates instead… just imagine a princess washing the plates…Never! hehhe!
Still not satisfied, want to see more?? (Dont mind the family shots, just zoom straight into the menu) Click here!!
p.s: Eh they got ribs too! What caught my eye was , they have salmon and fish fillet in a meal, then "cordon bleu" (what is that??), of course steak, ribs (definitely!) and eh, they also have tomyam, seafood….(like rojak menu..goodlah, everyone can go!!)
————————————-updated 16/4/08———————-
Recently went here for dinner… (Anonymous told me about the huge t-bone steak here! thks!)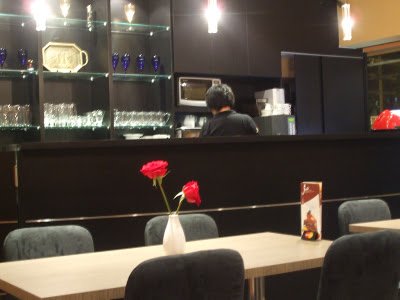 I think this is cassava chips but maybe not…. (complimentary)
All drinks are HUGE! From left, ice teh tarek, mango smoothie, ice lime…
Tried and tested their gigantic t-bone steak and fish and chips…
Crumbly breaded LARGE fish… and chips.
T-bone steak…

To emphasize its size, I compare it to the length of the fork…HUGE!

Overall verdict: I like the nicely decorated restaurant and its ambience. Love the fresh red roses on the table. Love their service, friendly and initiative from the waiters. Love the manja magazines provided for customer to browse thru and their compliment crackers (though its cold)…Love their generous food serving! Love the mango smoothie! Fish and chip is large and not bad…very filling, so is the t-bone steak!
Some slight improvements needed…(my humble opinions)
1)ice teh tarek a bit bitter , preferably sweet…
2)steak is ….Normally I will request medium-well because from my experience, whenever I ask for well-done, they will do it overly well-done. So if I request medium-well, often, it will just be nicely well-done . This time, it was overly "well-done" in some parts, charred/burnt…and bit rubbery at sides and preferably if the steak gravy is a bit thicker but overall still not bad..
3)coleslaw in fish and chips are tasteless
Total bill:
(no service charge??!! Is this for real?!!)
Anyway, will visit them again insya-Allah. I like the ambience….and the restaurant, very nicely decorated…next time, insya-Allah will try the ribs and the cheesecake (perhaps theirs are the same cheesecakes as the JEEWA ones? Hmm…)
fyi-they are being featured in MANJA magazine.
(Visited 3 times, 1 visits today)