Mosicafe32
Haji Lane
Singapore
(+65) 62968420
http://www.mosicafe.com/
Not far from Al-Tazzaq (one of my favourite place!) in Arab street area, there is a small cafe with a homely feel. From outside, u felt that their cafe seems to be "unfinished project". But as u enter, u felt like u are visiting a friend's home. Very unique experience… (need to take off ur shoes, so wear easy-to- take- off shoes, please).
They have a tv which shows channel 5. Just so happen, I sat right in front and get to watch a current movie showing. There are many types of seating arrangement;U can choose to sit on the carperted floor with surrounding cushions, or u can sit on a comfortable sofa with a coffee table. Very small and narrow.
Anyway, chose the Chicken kofta tagine about $16 dinner set meal. If u buy alacarte, then it is less $2, so worthwhile if u buy the set right? Which includes: drink+soup+salad+dessert
I brought my "self-proclaimed" morrocan food expert again…
First came the drink. Chose dates with milk. Have never tasted this combination before. I like the milky flavour but the dates should be finely blended or make into a smoothie or milkshake or something cos the date skins is not finely blended and at times stuck at the "langit2" or within the mouth itself. A bit uncomfortable.
The salad was a delight, the mixture of mayonaise and thousand island sauce is poured on potatoes, tomatoes and vegetables cut into cubes.
The crab soup (crab stick?!!) is tasteless. Wanted to ask for salt + pepper but my "expert partner" decided not to.


Then came the real DEAL. The tagine look very colourful. It wasnt as hot as expected. My "expert" partner said that they did not cook using the tagine but instead use it as serving dish. Hmmm…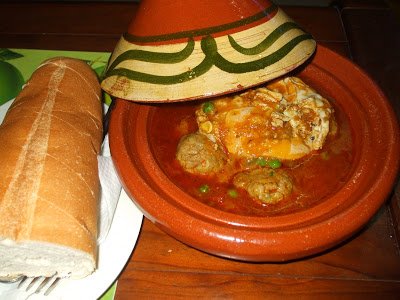 Again, it was a dissapointment. I think the other time at Deli Morrocan and this one tasted almost similar but still not even an inch nearer to the real authentic TAGINE.
This time, u cannot even see any olives at all (only peas and lots of peas and egg plus chicken balls) and was served with soft baguette bread instead of pita (but u can choose rice). We were told that the whole chicken (real chicken fillet not minced meat)tagine is only available on fri,sat and sunday. So meanwhile, we have to make do with the chicken meat balls.
Then came dessert-nothing to shout about( probably KINGS ice-cream but I could be wrong).
For me, tagine in terms of tastewise is ok (have not been to morroco so nothing to compare with)but the price is a bit expensive if compared to Deli Morrocan's tagine…the serving is quite a lot if u eat on ur own. So we share amongst 2 person, still unable to finish.And they only have chicken tagine. Not much meat varieties.
Oh, they do have cous cous too. Same price.
But I do like the ambience. Very homely….so cosy… Might return for the ambience…with a bunch of friends…
(Visited 7 times, 1 visits today)