Noor Jannah's Kitchen
2 Jalan Masjid
opposite Kassim Mosque vicinity
(Kembangan MRT)
Late night supper at this eatery. Read lots of good stuff to be found
here
like Satay, roti bom and more.
But when I reached there, it looked so empty around 12am on weekday night. I thought it was closed. But it was open and only sell seafood, noodles and fried rice and stuff. The satays and roti bom cannot be found. Probably open earlier. I was so looking forward to taste their much-talked about satays! Well, need to schedule another date here ..
Anyway ordered their "special creation" BONE STEAK HOR FUN OPEH" (I think opeh is pinang tree aka betelnut tree's dead dried leaves/bark or something cos I saw it fell off on the pavements of Eunos road)… $8, can feed 2 persons (with 2 bones). I like the horfun, nice , reminds me of the ones at jalan kelapa which has gone missing?!!(where are u?)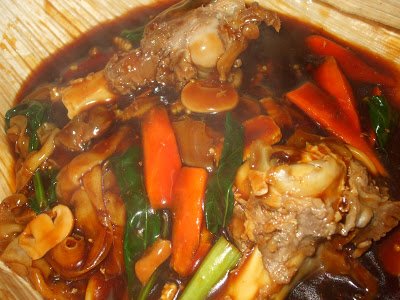 Anyway, first time in trying out this combination. I like the noodles and gravy but the bone is ok, not bad…
But where are the bones?? Gone? In my tummy? hehehe!

Errr…kinda dejavu (click here to read more and scroll to black SUV) cos one Indonesian worker kinda play songs out loud from his hand phone (not sure for us or for his pleasure cos he went around us..hmm..) , I felt entertained again….
Read my previous post on this eatery…
p.s: I realised that my blog do not have much late night makan places…so will work on that . So u night owls, if u have more places in mind, do keep me informed!
(Visited 11 times, 1 visits today)