Deli Morrocan
30 Bussorah Street
Tel: 9121 5121
Daily: 10.30am – 11pm
What is tagine? Click here for answer…
Recipes ? No fear, answer is here..
This deli is located right in front of the Sultan Mosque. It can be missed because its' Morrocan decoration aint prominent enough. It looked like a typical food stall..


mixed kebab (chicken and beef) $5.50

Koofta beef tagine (minced meat) $6.50


We ordered beef tagine and mixed kebab. Many things we wanted are not available. Very limited. Lamb tagine is available on weekends. Chicken tagine is what people loves here but when we came, the owner said that we need to wait for another 45mins. Cos its still cooking..
The tagine is tasty but a "self-declare morrocan" said that the tagine is not the same (not even close) as the ones in Morroco. Very different…The taste is different..And sad to say, the pita is hard… The owner even recommended add some spicyness into the tagine since that is what singaporeans normally love! But we asked for the real moroccan taste…
So could the real tagine, please stand up…really need the authentic one!
I'm still puzzled how the original taste is like. Perhaps I will try to make my own using these recipes. i wonder whether I can purchase tagine in Singapore.. Maybe used claypot as a substitute but then tekka market has many earthern ware which I could substitute too.
Anyway…
what I liked is the mixed kebab. (add $2 for fries). The taste reminded me of my past,once upon a time at a turkish restaurant in Europe. Oohh…
The food here is tasty and economical plus owner is friendly.

cafe le caire (middle eastern cuisine -got bamia!!)
39, Arab Street,
Singapore 199738
Tel: 6292 0979
Fax: 6297 0573
Email: enquiry@cafelecaire.com
Cafe le claire @ Majlis is one place which I do not really enjoy the food much. I did not really care about the steep prices. I thought if the food is good, I wouldnt mind paying for it.
They used to be popular and was always featured on tv. But I have not try their food at all. Did hear from word of mouth that their food and service has roll down the hill but I was adamant to prove otherwise. But they were right…
I always heard my mom said Azizah's restaurant 's "BAMIA" is very delicious. (Unable to get the chance to taste that because it closes down.) But when I tasted this here, I thought it tasted like typical average curry. It's nothing special…But what really is a shocker is that, the meat came in "tiny" 4 pieces= $9??!! and 3 mini okras.Is lamb that expensive? Then how come lamb chops (other restaurants) can be so cheap and yet bigger than the pieces found in the bamia when accumulated? The okra is nothing to shout about either.
For bamia recipe, click here

Hibiscus drink-has a weird flowery fragrant after taste and is sour like blackcurrant.But I like!

Laban+olive oil+cucumber=$6

Saw the online menu -laban as arab yogurt drink. Wanted to try but I was disappointed to find out that they do not have that but instead like a salad with chopped cucumber. As curious as can be, I took that risk and order that. Pretty steep for $6, huh? . It was large but again, the plain yogurt is one that u can find in typical supermarket or even tekka market. Average.Should have added fruits instead of cucumber. This normally came free in some indian briyanis.
Though i did not order its speciality, I find that the service is not that good neither is the food. The hibiscus drink is not bad. Probably people go there to hang out. Or smoke shi-sha perhaps?
Al-Tazzag
24 Haji Lane
Mon-Sat: 12noon – 1am
Sun: 4pm – 1am
Love seating on the ground! But I did keep a lookout for "lost" rats or bugs..but nothing happened. None came my way…alhamdulillah
Click on image to view enlarge menu


Typical ice milo, ice tea and ice lemon tea.


Very soft warm pita as compared to cafe le claire and deli morrocan.

Special all-in one platter of humus, baba ganoush (dip made of smoked eggplants),egyptian salad and tzatziki served with pita bread.

This is an assortment of dips.Never thought chickpeas/aubergines dip could be so delicious! And even the tzatziki yogurt taste much better than the laban in Cafe e claire. YUMMY! Became a fan overnight!
Al-Tazzaq Super Special -chicken , lamb chop,lamb and beef with fish served with potato wedges.This came in large serving. Cannot take as whole, thus divide the pic into 3.
Love the fish BEST! Very rich in flavours.Grilled chicken is mild. Lamb is nice and soft. Potato wedges is nice and crispy. There is a slight spicyness in this food that might turn off some kids. Love this!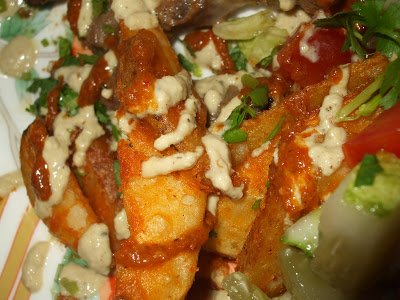 Of all 3 food places,
I like the food at Al-TAZZAQ BEST! Not only does the pita bread is so soft and warm.The food is very tasty!And the food is large enough to feed 3-4 people!
Very nice laid-back relax ambience while sitting comfortably on the persian carpet with some pals. The food are incredible. Love the assortments! Love all that is ordered except the drinks (average). Will look forward to my next visit. (Thks Lub and bummer for recommending!)
(Visited 1 times, 1 visits today)