Sakinah Railway family restaurant
KTM railway station
Tanjong Pagar
Opens till late night/morning
A recent friend of mine (ah-chye) has this craving for soup tulang. Yeah, that mutton bones in reddish gravy where u soak bread/baguette into it and not forgetting the sum-sum (bone marrow), u must suck it out!
Had been disappointed by the beach road stalls a few times.So, I have been searching for new places to try…Found this forum(founded by one of this blog regular visitor).It's called –
Makan mana forum in facebook…
Under KTM topic, M Razali Yusoff (thks!)actually suggested trying out the soup tulang. He said that it is similar to chili crab gravy, thick..
And so i did…
I declare that this has got to be my number 1 soup tulang!!Beach road also kalah!(lose). It's a bit different than typical tulang. Thicker gravy with fleshier meatier bones even for the smallest serving-$6.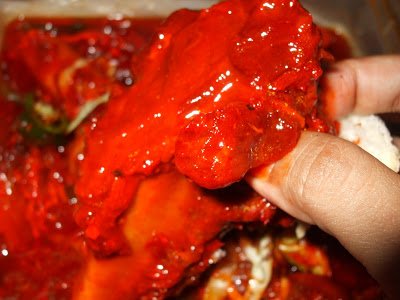 So what are you waiting for..
warning: got to wait for 20-30mins because its very popular. And its addictive!
p.s: Their mutton soup is good too! To know where is it, click here…
(Visited 4 times, 1 visits today)