Oishi Pizza
Operating Hours
Tuesday – Sunday
11am – 8pm
(Closed on Mondays, except Public Holidays)
Dine-in outlets
215P Upper Thomson Road
Tel: 6554 4575
10 Jalan Serene #02-12
Serene Centre
Tel: 6466 4233
DELIVERY HOTLINE:6555-5656
(please click on image below to enlarge it!)
What better way to enjoy these rainy days than 2 hot piping pizzas delivered right at your doorstep?! So pick up that phone now!!!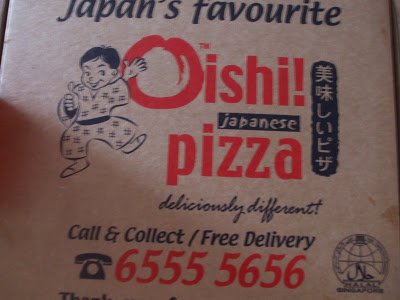 i did…I bought the promotion one>>Buy 1 and get 1 free. I bought the teriyaki beef and unagi with country greens regular piece for only $22.90.Can feed 3-4persons.
Unagi with country greens pizza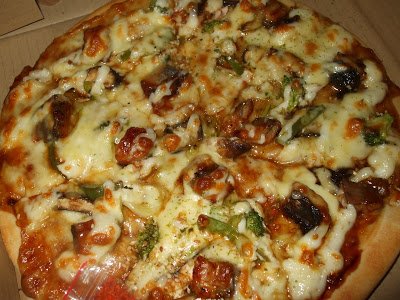 Beef teriyaki pizza
The beef teriyaki is nice. Its very flavourful with peppery taste. Might be "hot" for kids.
After I devoured 2 slices of pizza, I noticed that there is 2 small packets of chilli flakes and a packet of mixture of dry seaweed shredded and chicken/fish flakes that are normally found on takopachi balls. So I add them. Wow! It enriches the flavour even more!
VERDICT: Definitely in LOVE with OISHI pizza! If u love japanese food, u will love this too! What i love is that not only does it comes on time, 45mins…It came with hot piping pizzas felt like just came out of the oven…not "warm pizza" delivered like pizza hut or other pizza delivery.When i ordered this, it was raining bad and the ordered was not late. I was happy. And no delivery surcharge. But sad to say, they deliver to certain limited areas and mine is one of the lucky ones.
As for the pizzas, they are bursting with flavours!They are quite generous with the ingredients. Other than the fishy, seaweedy flavours in the unagi pizza, there is also mayonaise added as sauce base to the pizza. May not sound yummy but it tasted good alright! I love both the teriyaki and especially the Unagi pizza. Very juicy unagi (eel) and anchovies all over the pizza. No need ketchup, chilli sauce or any other "add-ons".I am very satisfied with their pizza and service. Love it!
(Visited 12 times, 1 visits today)