Hei Sushi (halal version of SAKAE sushi)
Downtown East
1 Pasir Ris Close
#01-01 / 02 Singapore 519599
Tel: 6582 8467
Operating Hours:
11:30am – 10:00pm
Menu(similar to SAKAE sushi)


The food came from here…
After a tip from anonymous(thks!)that this place has received its HALAL certificate, within a flash, I was there!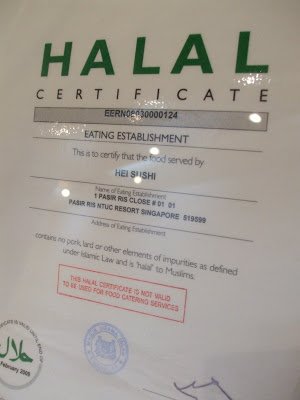 All the food shown are ala-carte.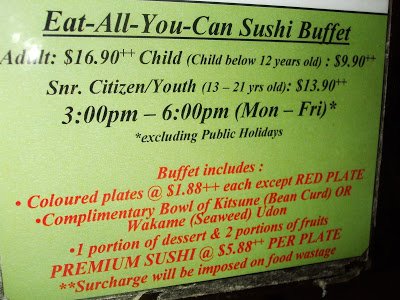 The ordering of food is self-service. u need to click on the screen using mouse and then select the food items u want to order. 5-10mins later, the food is served! Simple…yet troublesome. (Since the catogories are in Japanese, I need to refer to the menu time and again to select the right categories of food that I wanted.)

Items on the conveyor belt are so limited!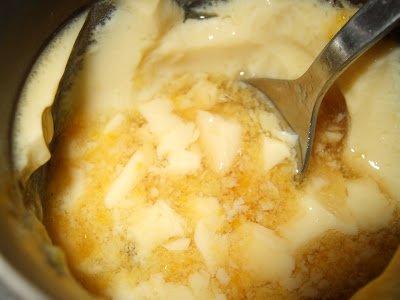 Pumpkin chawanmushi- egg custard dish steamed, very delicate tofu-like taste.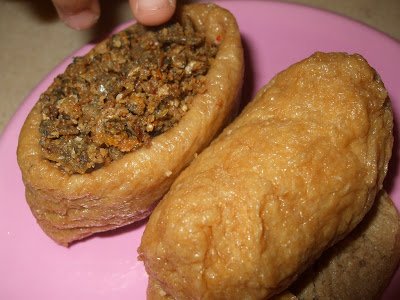 Inari sushi-Salmon skin : This is one of a kind sushi which I never tasted. The top part is the shiok crunchy bits which I perceived is the salmon skin fried till very crispy cracker like and then chopped into mini bits. Krak-kruk,krak-kruk sound as u munch on it. Unique!

Gyu don-beef with rice. Nice! Rice is piping hot and the beef is tender.

Soft shell crab deep fried -MY first time eating this. It is YUMMY! Love it! This is one crab, u can eat without any hassle. Just place them in ur mouth and munch! Crispy, crunchy and yet the flesh is sweet and soft.It came with a mild sourish dipping sauce.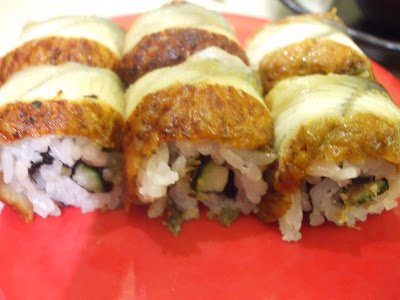 Unagi sushi (eel)-I will never leave without them! Saw those at the conveyor belt and grab them! Cost about $7 (red plates looked appetizing than the other coloured ones because they are much expensive).Love it! I like the inner filling of the sushi which has cucumber and some crunchy bits like the salmon skins.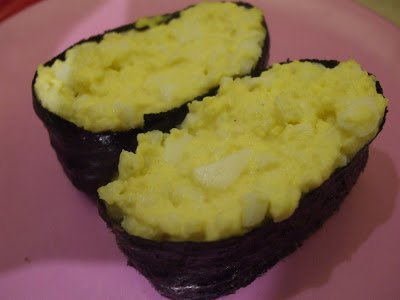 This egg sushi look appetizing but tastewise a bit bland, very yolky. Seldom I eat sushi with its soyasauce. But this , I need it.A pinch of wasabi also helps.(wasabi not so strong)
Salmon sushi-from conveyor belt, ok taste.

Tuna sashimi (tasted ok, not so great.. have tasted better in terms of freshness.)


Grilled Shitake mushroom-taste GOOD almost like cuttlefish. chewy, smoky flavour with a tinge of teriyaki sauce on it. Yummy, Love it!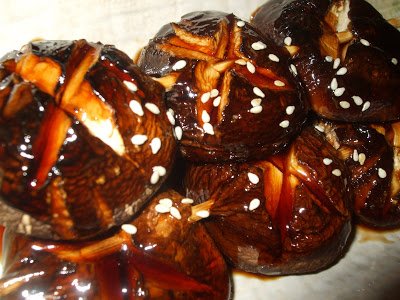 I thought this drink is made in-house but its instant, in a bottle. Had I known, I wouldn't order.(Actual cost $1.20 but sold for $2.58, its a rip-off, not so good..ASk for sky juice is better)
Ice-cream is average.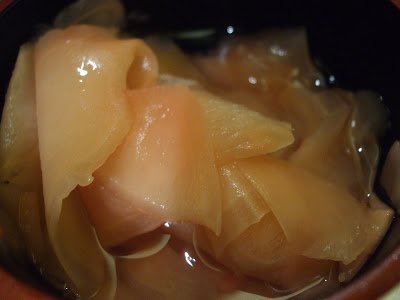 Aside from the condiments available on the table which includes soya sauce and wasabi, there are slices of ginger (spicy) which helps to remove that nausea or "jerlak" taste.Very refreshing, I like!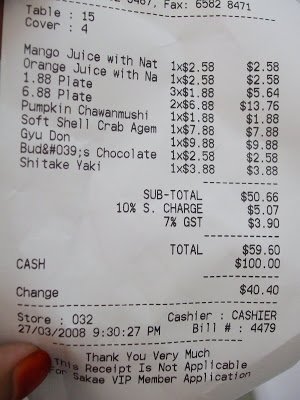 Overall to me- Average. Can be improved.Will give them a second chance…will come back again, insya-Allah.
Improvement needed-1)freshness of the raw items,2) more varieties on the conveyor belt please and 3) the menu, please insert a desription of what is the dish all about cos it's in Japanese names..4)need bigger straws if u sell drinks with nata de coco cos mine stuck in the straw/at the bottom (spoons are not given too).
Note: I just had my tuna and salmon sashimi (fav!), sushi and grilled shishamo (with roes)(yummy) and not forgetting those large raw oysters (fav!) ..last month..at the family international buffet(still searching for the pics to post..I wonder where I left them?) which has relocated to Ngee Ann city. Though prices have increased to about $40+ per person…I find that the quality of the raw items are GOOD and fresh. So to compare this with that..hmm…
(Visited 27 times, 1 visits today)