Restoran Makanan Laut Yeo Sekeluarga
Persisiran Pantai, Tanjung Adang 81550 Gelang Patah , Johor Bahru
Johor , Malaysia
Phone
+607 507 1897
http://wikimapia.org/6922263/Yeo-s-seafood-restaurant
(can get co-ords on top right hand side)
Or u can try Saujana Co-ords (beside Yeo)
N 01 20.915
E103 34.211
This place is recommended by Herdy.(thks!) It is owned by a chinese muslim family..so HALAL is a definite YES! yipee! So without much hesitation, let's drool together!!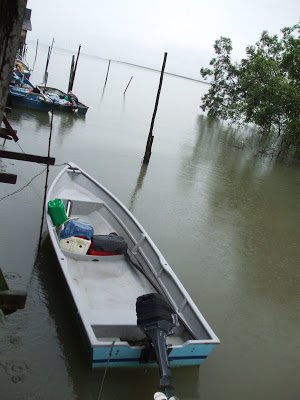 If no taxi, u can always take this boat..hhehee!Or if u prefer catching ur own seafood…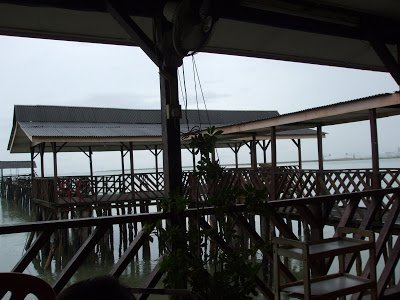 Wooden platform on stilts. If I were a zilionaire, I would costruct a glass platform instead of wood so that we can view what lies beneath…

That restaurant across is another kelong seafood run by Malays muslim.Was told that the food is more costly and not as tasty as Yeo. But no harm trying, rite? But if u do try,then dont forget to inform me ur preferences or favorites over there!
Restoran Saujana
Persisiran Pantai, Tanjung Adang 81550 Gelang Patah , Johor Bahru
Johor , Malaysia
Phone:+607 507 3211(closed every friday)

These prawns are one of the most fragrant buttered prawns i ever tasted! Got to be my favourite! Very crispy too! U can eat the shells and the heads too! Normally, I dont order butter prawns because I dont like the oily after taste that comes with it but this one dont have! (Oh that reminds me, I need to go to Mak's place and taste their famous buttered prawns.Hmm..)


Not rubbery nor oily, these calamaris are just yummy to pop into the mouth!


This dipping sauce for the calamaris(sotong).Tasted like thai chilli sauce.


This is black pepper deer meat.Similar to beef. No unpleasant smell can be detected. Tender. Saw a unique name in the menu >>deer meat in periuk besi (metal pot)but did not try that. Perhaps, next round?


This chiili flower crabs has a unique chilli gravy. It is unlike singaporean spicy sweet chilli but with a hint of tau-cho (fermented beans).I like…


Thhis fish is served with 2 candles lit beneath it to keep it warm thruout the lunch.


The steamed siakap fish hongkong style just melts in the mouth.The soya sauce gravy is tasty. Looks spicy but not. Very fresh!


The bill came as a surprise because this is one of the cheapest ever amongst all the kelongs seafood i've been.Total RM97 .Though the crabs, prawns are not the large size but medium, the servings are generous! We ordered for 2 person servings but were served 3-4 people servings instead! Very generous, very fresh and very yummy! I love everything especially the unique chilli crabs and fragrant buttered prawns and the yummy hong kong steam fish.Black pepper tender deer meat is good too.Sotong is not rubbery but tender. Love everything!
To know more aboout Johor dining, click here
To know more about Malaysia dining and stuff, click here
updated: 18/5/08 (Thks Mat Saleh n others for the query)
Okay, many have asked the directions, I will try my best to give the instructions (but this wont guarantee that u wont get lost hehhe!):
Head to Kampung Pendas (2nd link, PTP exit, make a right at the junction, left at the next one then all the way down to the end of the road)

(in reference to my GPS)
From tuas check point,
continue 7.9km, Exit left on TG PELEPAS highway,
drive 3.6km and turn right on J4 Gelang Patah,
drive 900metres and turn left,
drive 3.6km, then turn right,
(750m later turn right…around this time, u need to look for Yeo's signboard shown above)
the rest u have to make a judgement call…


Hope that helps!
(Visited 9 times, 1 visits today)