I never thought that this day will come. I remembered, a blog visitor actually suggested I travel to Thailand in search of HALAL food and that wish actually came true. Alhamdulillah.
Wasnt prepared to enter Thailand actually. Left all the thai language books at home. So feeling vulnerable to language barrier, I just tour around the border area.hehe! Anything, I can just run to the customs. But actually, nothing to fear, they can understand english and malay well. In fact, I love to listen these "Malaysians-looking" woman speak. Very gentle, very nice tone and fast speech.
Didn't have time to visit the duty free shopping mall. Next time perhaps, insya-Allah. Heard that there are many Thailand goodies in there! All under one roof.
For those who drive, u can park temporarily at parking near the duty free if u are like me, roaming around the border.But if u intend to travel to Phuket or Bangkok using ur car, make sure u bring all the necessary documents to show that the car belongs to you. Also get ready some cash for payment. For those using public transport, there are many private taxis/vans that can take u over the border. Or u can simply walk over and then catch the "taxi" in thailand. The white card is very simple to fill in or u can get the thais to fill up for u at RM1 or RM2 per person.
At the customs, there isnt actually a specific queue. We just anyhow queue up. Ended up at the lorry Q becos there is no one.Though it looks as though there are no rules, their customs is quite high tech. Each and every custom has a camera to scan every person that comes in and out of thailand. So say cheese and smile widely. COol, huh? Also u need to pay some meagre amount/tax to exit thailand.
Oh and there are many security checks before and after thai customs. So check thoroughly what is permitted and what is not before coming here.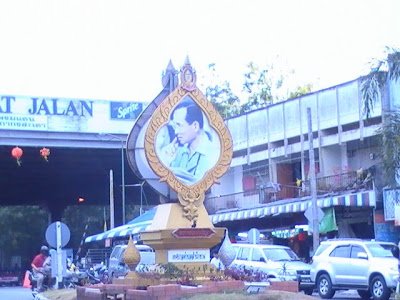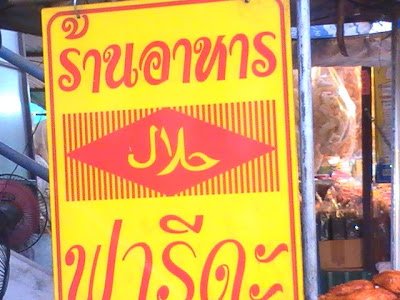 Halal food? No problem. There are many HALAL food here. Many muslim restaurants, stalls and lots more.


I saw this muslim chicken rice stall and recognise that one is xtra long from afar. I was delighted! IS it Mr DUCK? Yes it is!! I ordered a packet of duck rice (RM3)not knowing what to expect. In fact they can cook many duck dishes like duck fried rice, noodles or whatever that u requested. I have it take-away since I just had huge seafood lunch nearby.
But when I was in the showers, the duck rice was "attacked" by my hungry travelling mates. They said it was delicious and left me a small leftover piece. Not bad.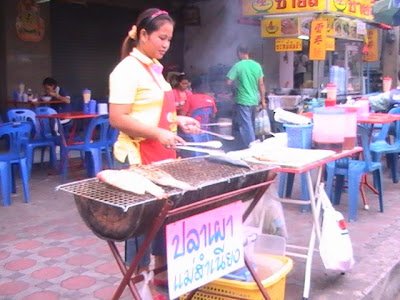 This is not halal. I'm just showing their way of bbq fish on the side streets. The Halal and non-halal stalls are separated.


Eh, is this legal?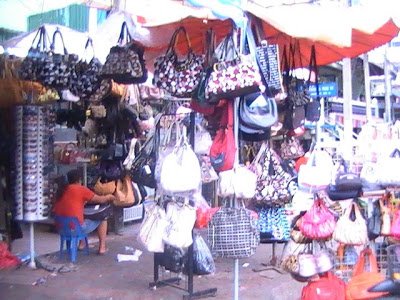 This is a typical sight in Danok. Lots of fried chciken parts stalls everywhere. Eaten with glutinuous rice. I'm not a fan of glutinuous rice so I ate the chicken on its own. The chicken displayed are all half-cooked so they will fry again on the spot when u ordered. Nice thailand chickens! Very tenderliciiously good! They got bishop nose, legs, necks, innards…everything!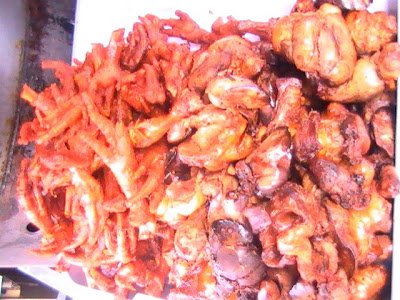 Steamed corns anyone? Thought terengganu kampungs has the yummmiest corns but was wrong. This is the best! Aside being the largest, it is sweet and juicy!


The paler colour of corn is glutinuous corn. Have tasted them years ago at NTUC thus I know what to expect. Not much flavour but kind of chewy. Prefer the typical juicy sweet corn!


Fruits paradise…


This mini mangoes can be found in Mustafa or NTUC. Very sweet. Eaten whole with the skin but not the seed.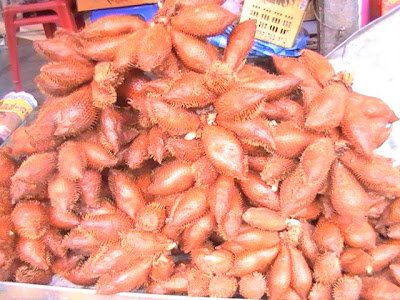 some hairy fruits….didnt have the chance to try them…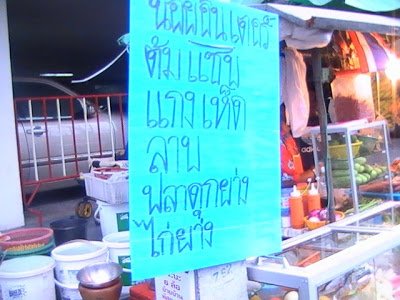 This tasted like soon kueh. Difference is the filling has vegetables and peanuts. Eaten with raw lettuce leaves and spicy bird eyes chilli. POWER! No dipping sauce. 20baht=RM2. I saw how the lady does it.She uses a hot flat pan like those for chapati/popiah skin.
This is a dessert. Mango with glutinuous rice in coconut. The mango slices are juicy and very sweet.Glutinuous rice is mild sweet. Yummy! Wanted to buy/taste the durians but wasnt ripe enough for my taste. I was also informed that Thais like their durian hard and not as sweet or ripe as the Malaysians love.RM5 (they prefer Malaysian currency so dont change ur currency!)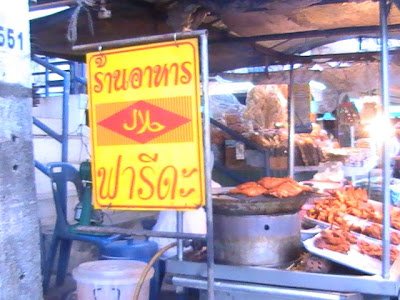 Goodbye Danok! It's been a pleasure getting to know you…
next will be on the wonderful HALAL seafood in Danok….
(Visited 14 times, 1 visits today)