Rumah Minang
Muscat road (opposite Sultan mosque)
7am-7pm daily ,no off days.

Lately I've been craving for green bean soup dessert. Normally, I will buy them at Tekka market for only $1. But too far, so I tried @ Hajah Maimunah dessert counter. Was greatly disappointed. It was not only diluted ,the green beans are very little. Though it is self serve counter, I tried pouring more green beans into my bowl but the diluted soup is filling up my bowl. I need a "tapis!" Tried some kuehs too, some are dried up and one of them is so hard! fyi-tried at geylang branch around 3pm. Probably the lunch hour crowd has taken all the good stuff.
So after a disappointing trip to Hjh Maimunah. I yearn to go to Rumah Minang @Muscat Rd. Kinda far especially in this lazy hot humid afternoon.
3 days later..I was there early morning around 8pm and I wasn't disappointed. Of course aside from the yummy green beans, I have to stop by for a nasi padang breakfast too. Mind you there are just too many dishes to choose from. And I got another favourite: BUBUR HITAM!! (truthfully, I don't really like typical black glutinous dessert!But after sampling this, I became a fan instantly!)Not too sweet but yummy!! (got to watch that cholesterol level though if u poured too much coconut milk, another self-serve counter!)Too full to even try their yummilicious spicy tahu goreng….

Tapioca leaves is nice and refreshing in coconut gravy!I like their version of this..


Fried tempeh with chilli and Stinky beans.


This is one of my favourite asam pedas other than the Bawean rice stall and sinar pagi.


Grilled chicken in coconut gravy similar to Sinar Pagi @circular road but a bit milder.Nice!


Fried tender beef lungs (not rubbery at all!)


Sambal belacan is a must. But don't eat them in the morning if u have a weak bowel…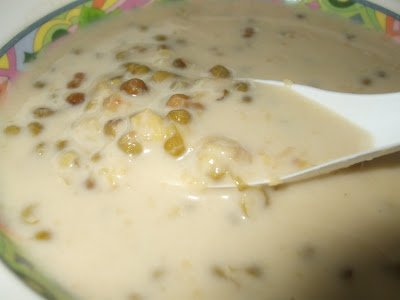 Thick "milky" green beans just like how my granny used to make….


A beautiful concoction of bubur hitam!


Nice Bubur cha–cha.


Delicious till the last "lick" of the hand or the plate….whatever pleases u.
to see my old post regarding Rumah minang , click here
Oh by the way, I found a nasi padang stall that sells shiok "sotong hitam" (black squid)in Temporary geylang market…I actually saw a pair of neneks eating yummily on a plate of nasi padang with large black sotong. I trust the older generations especially when it comes to food. Their tongues are much2 refined and their palates has received extensive years of eating experience. So when u see any elders eating around u, just take a peek at what they are eating…hehhe! well, that is another story to be told in another posting…
(Visited 2 times, 1 visits today)