Warong M.Nasir
69 Killiney Road
239526
Opening Hours:
Mon-Sun: 10am-10pm
Tel: 6734 6228
(near singapore power building at somerset mrt)
favourites: beef rendang, eggplants, tapioca leaves in coconut (fragrant),tea
I've been wanting to come here for a very long time…
If u are procrastinating like me, then read the reviews here
When i first heard about the name of this stall, i thought its affiliated to the famous Singaporean singer who made his mark in malaysia.But..its not.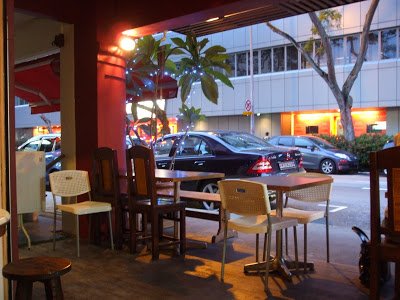 Art pieces hanging as decor. Some can be bought.
We came for dinner around 7pm. So not much variety.

The yellow gravy in the middle is the kuah lemak(coconut gravy). Its complimentary. Normally malays like their rice moisten by gravy and then when u eat with the hands, SHIOK!
Not-so -sweet tea
Tapioca leaves in coconut gravy (fragrant)
Mild spicy juicy egg plants
Their famous beef rendang.Truly rich and yummy! Almost equivalent to garuda cuisine.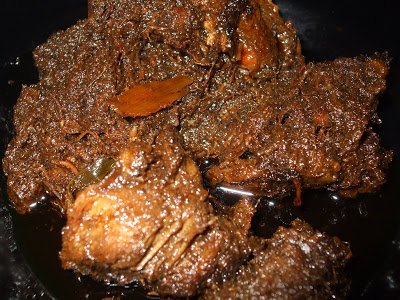 Dont really like this beef lungs, very dry and chewy.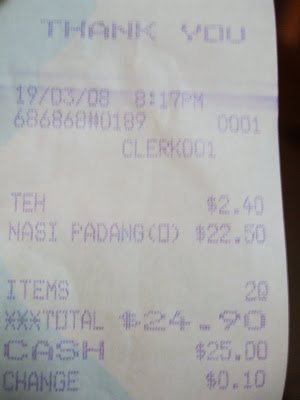 total for 2 person…
warning: I felt the price is a bit exorbitant. I expected it to be cheaper than sinar pagi at boat quay. But i think its a bit more or probably because i chose 3 servings of rendang? The price is almost that of Garuda restaurant. But then again, the mild jazzy ambience might pull u back for second visit if u are in the bustling city of orchard….
(Visited 3 times, 1 visits today)