DADI
39 east coast road
tel:63420892
Recently I went to a place that is related to one of the pioneers in satay club. Was recommended by singaporehalalfood.com for their mee soto.
The premise is located opposite roxy square, katong area where the famous laksa are. It is small but everytime, I passed by, it seems packed with people.
The owner's parents used to sell satay at the satay club 1948. Alhamdulillah they are still around.
anyway, though small, they serve us high quality cutleries and plates. Made u feel a bit classy.And I love their service. Not only they greet u personally, they made u feel at home.
putri salat and ondeh-ondeh
This soto has unique mild taste and the soft lontong slices complements it. The chilli is not spicy.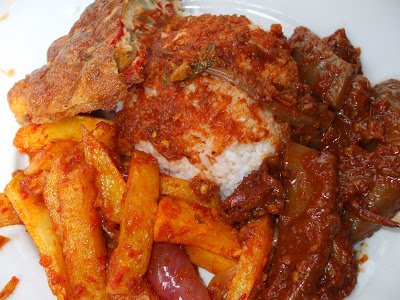 This is SHIOK sambal sotong. Very soft, no bitter taste or peculiar smell.
AS for the quality of the food, its good! I like the clear broth of mee soto, thick gravy of mee rebus and love their sambal sotong (I was the last one to have it at 10+am) and their ondeh-ondeh just melts in the mouth with a squishy gula melaka inside. Sardine curry puff is nice too but not spicy.The putri salat is soft and yummy! Everything is good! Beverages wise are good and not so sweet , just nice for me!A good place for breakfast…
total cost $23 for 1 putri salat i pack of ondeh-ondeh (1.60 for 4pcs), 2 hot drinks,1 canned drink, 1 nasi padang with 3 dishes, 1 nasi padang with 2 dishes, soto and mee rebus…
oh by the way, if u want to taste their satay, come in the afternoon, call first to ensure. Because i think they close by 6-7pm.
fyi-in the same row of shops, there is another nasi padang stall called kartika something…

(Visited 8 times, 1 visits today)