Yati Ayam Percik 847,
Jalan Long Yunus,
15200 Kota Bharu,
Kelantan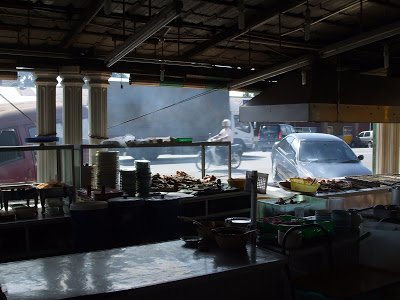 This place is said to be one of the best ayam percik in Kelantan. Once u reached there, there will be a big spread of local colourful kuehs and local cuisine like ayam percik, grilled beef…and lots more.U wont know what to choose.But somehow, I did manage to taste the food that I wanted. I ordered the nasi kerabu, ayam percik, daging gulai kawah,daging bakar, ayam kampung and some kuehs.
Too bad , my digicams "buat ragam" , battery low and all sorts thus not unable to take many shots…for better pics, click here
Drool on…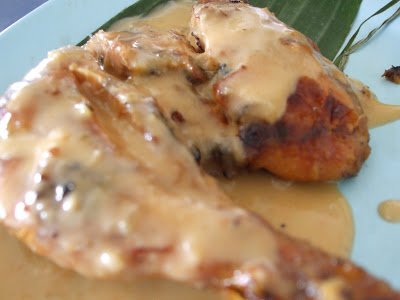 These famous ayam percik are delicious!A bit dry but the sauce moisturises it.The sauce is a smooth creamy rich coconut peanut gravy sauce. The ones in Larkin johor bus terminal which I love so much is different. The ayam percik over there actually soaked or marinated the chicken in the coconut peanut gravy for a long time and then grilled to perfection (during which the sauce will be basted on the meat while grilling)
Fried kampung chicken


Daging Gulai Kawah-beef slowly simmered in large woks. Tasted like very light mild soft tender beef curry.


Nasi ulam or Nasi kerabu? -vegetable rice, a healthy option.Though it look simple, it was nice actually.Preferred this than the white rice-fat grains like indian ponni rice.


Grilled beef slices -tender, with some fats.


Savoury sweet kuehs…

Overall- Love the food! Very different from Singaporean ways of cooking which is much stronger, spicier and fiercer flavours. Love the countryside full of greeneries pastures. Only thing is that the weather is hotter than Singapore and I felt like the sun is glaring just above me…
I also had the chance to try nasi kukus aka nasi dagang in one of the makeshift warung. Wanted to go to this famous stall but around 10-11am, SOLD OUT! So sadz…
But alhamdulillah…its a great experience!
Next is to the border of Thailand (in the beginning of this blog, there was a blog visitor suggested i go to Thailand for HALAL food expedition and I actually asked him/her to "doa" for me.Insya-Allah, that prayer will be a reality one day..since I'm only few km away from Thailand)
p.s: Did try "budu" aka fermented fish sauce similar to nampla (THAI fish sauce)but not as saltish and the colour is a bit "dirty brown" unlike nampla which is clear brown colour. Also heard that they like to use lots of coconut, sugar , budu and duck eggs for their kuehs and food.
To be continued….
(Visited 9 times, 1 visits today)