When I first heard my chinese friend ordered Satay Bee hoon, i was like "What?!! Satay sauce on bee hoon?" Eeee…."
But then suddenly after years of not hearing that anymore, this became another "absurd" craving of mine …(cos I've never eaten them in my whole entire life, why did it suddenly became a craving?! I can never understand..)
The satay bee hoon is actually beehoon + kangkong+cuttlefish+bean curd puff+cockles +creamy satay sauce ….= ??? Have never taste it yet…but can imagine.
Sounds yummy this time…..
Where to find HALAL ones? Maybe I will try to cook it on my own, perhaps cheat a bit..buy the satay sauce from REAL satay stalls then the rest of the ingredients -just blanched them…heheh! Simple!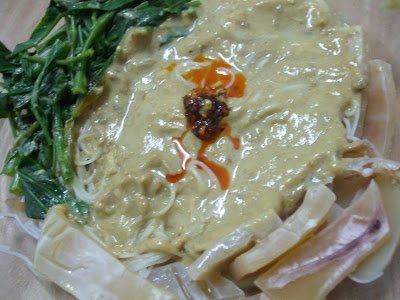 (added sambal prawns for extra flavour)
And so i did try to make it…taste alright..but I dont think it's my kind of food.A bit "jer-lak" or "muak". Probably need a chef to whip it up for me…hehehe!
Anyway to view the pic of famous non-HALAL satay bee hoon, click here
For the recipe, click here…
(Visited 160 times, 1 visits today)