Qian Hu fish farm
71, Jalan Lekar, Sungei Tengah
Singapore 698950
65-6766-7087 (10 Lines)
65-6766-3995
Opening Hours: Mon-Thur 9am to 6pm, Fri-Sun & Public Holidays 9am to 7pm.
Free Shuttle Bus Service to and fro: Choa Chu Kang & Boon Lay (Jurong Point) weekends/public holidays only

$10 for 30 mins-towels and slippers provided
It was a great experience. I was "scared" thinking that the fish might be "piranhas in disguise" but I was tickled pink instead. The toothless Gara rufa fishes are from turkey.
I had some reservations about this but my partner is excited to immerse her feet at the mercy of these fishes. YIKES! But it wasnt as scary…it felt like a tiny electric feeling as they nibbled ur dead cells away and it can be ticklish at times. At the end of the session, ur skin felt smooth and soft.
Similar spas can be found at Sentosa underwater world and Kampong Fish Therapy in thomson. U can opt for whole body bath with the "flesh-eating" fishes. Read more here…
while u are busy doing the fish treatment, u can let ur kids/ other family members join in the "longkang fishing" which cost about $5 per 30mins. u can catch as many fish as u like and then they will packed for u to bring home with a free mini tank. Only one net is provided.

This lady (pink tights)is very skillful. She actually caught zillions of longkang fishes for her kids with her BARE hands!!Then knowing that we pathethically caught only 3 fishes, she offered to help us and she gave us many, many longkang fishes.YIPEE! Probably 30 or more.. Sorry cannot publish her face, she might be banned from entering Qian hu after this…


Many colourful fishes to bring home as pets!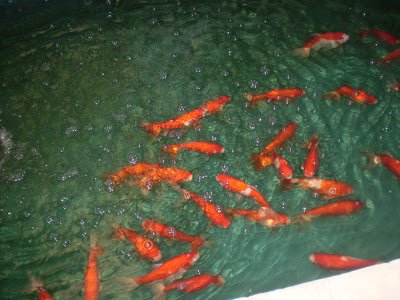 Turtles, terrapins…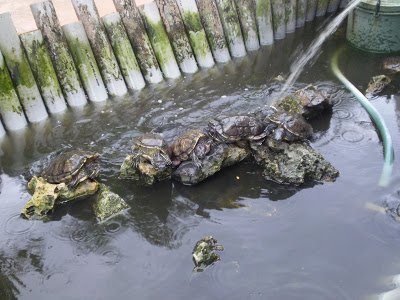 p.s: another favourite family outing is Hay dairies…goat farm. An eye opener. Very informative. Love the chocolate goat milk but hate the stench..will post pics if I can find them..
(Visited 3 times, 1 visits today)