latest update feb '08 :This nasi lemak is BEST eaten in the morning only! i've tasted it again in the afternoon but the taste is not as shiok! in the morning the nasi lemak is piping hot in the self-serve counter but in the afternoon , it is all wrapped up in mini package. Also because they sell nasi padang dishes in the afternoon but if u happen to be there morning or afternoon, be sure to grab their "sedap" fried chicken!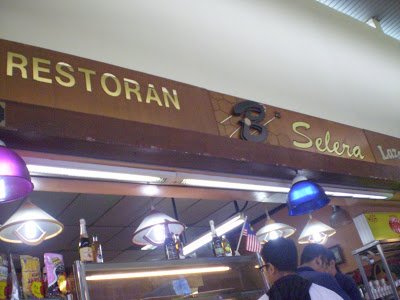 I've tasted some of the best nasi lemaks in Adam road, changi beach, boon lay, malacca, johor , kl, kampung but this is the best. Especially if u have been on the road for so long. This is located in Sungei Buloh R & R. It was early morning. The place is packed with hungry, tired families in transit.
I like this place. If u've been to Malaysia roads, u will know that not all stops have great toilets. But this place does have many clean cubicles toilet, spacious food joints such as fast food, A&W, KFC and also yummy food -typical malaysia food like nasi padang and nasi lemak. At first I thought I chose the wrong stall because its quite empty while others have people swarming all over. But I did not regret my choice.
note: U gotta go thru the bridge of fast food because the food stall is not at the front of the R & R but was at the back end, the very back end….but u have to persevere because if u are not strong, ur nose will lead u to patronise the many yummy nasi padang foodstalls in the front! hehe!
The rice of nasi lemak is so fragrant and what is unique about this is that it has tiny slices of ginger in it. And when u eat with the fried chicken (ayam goreng berempah), u will be awaken by the deliciouos aroma and yummilicous taste. So tender and juicy filled with aromatic spices. The sambal is a great companion. Simple bbut so shiok!Love it! Even as I recalled the savoury taste of the nasi lemak, i began to salivate…If only it's not that far, I will visit it everyday..hehhe!
Oh after I'm done eating, I saw many people having their meals here…
(Visited 5 times, 1 visits today)