Note: Not all stalls in Fork and Spoon is HALAL-certified.(thks Sensasi for bringing that up!) So please ensure there is a HALAL cert displayed before buying but if unsure, can always call up MUIS. Thank u…
31/5/08-went to check again …the only HALAL-certified stalls are Chicken rice, yong taufu, Fish noodles and vegetarian stalls. Again double check for the HALAL cert whenever and wherever u are ordering…
NOVENA SQUARE 2 aka Novena medical centre
fork and spoon level 4
Nearest MRT-novena
This food court has many variety of food from as far as Korean, Thailand-vietnam, Japanese,ban mian, chinese fried rice, chicken rice, indian food fares, sweet desserts, hot desserts and lots more. Most have their HALAL cert displayed except a few.
31/5/08-Went there again but the malay muslim friendly chef is no longer there. Was replaced by a Thai worker who has difficulty understanding us that a customer has to translate 4 us. Confirmed that it is no longer HALAL. So please take note!! (furthermore Sensasi has gone a step further by calling up MUIS to double confirm. Thank you Sensasi, for your initiativeness.)
The thai-vietnam food is one of them. And we asked whether it is HALAL, the malay muslim chef came out and reassure us that it is and that he oversee all the ingredients and preparation.

This thai-vietnam stall has one of the yummiesst fresh spring rolls made of vermicelli, vegetables and seafood. It was yummy! It goes well with the sourish peanutty sauce. The chef even ask us whether it was good. We gave him the thumbs up sign.


I love the chewy texture of these spring rolls.

Fried in 100% olive oil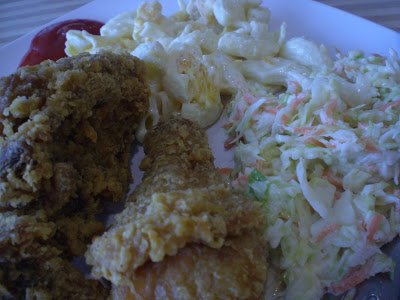 I should have tried their BBQ chicken but ordered original flavour fried chicken instead..Not bad much milder than KFC.. They do have spicy version chicken and other western food. I like the coleslaw and the cold macaroni with slices of orange(came together in the set).$6.80 per set.
Read more about this Korean chicken here:
http://www.stomp.com.sg/stfoodiesclub/poshnosh/151/chickmagnet.html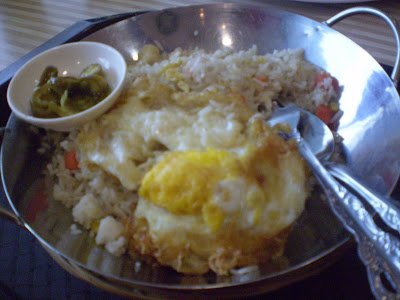 I saw many order from this tiny wok stall.. The fried rice is not bad.
Nice hot desserts.


I like this green bean dessert. Not as thick or coconutty as typical malay version.


$2.50 for breakfast set of hot beveerage and thinly sliced kaya bread and 2 half boiled eggs -which u need to "fish out" from a container of boiling water urself.Both coffee and tea is nice but not as big as the banquet ones.


Beside this food court , there is Royal cake outlet.We tried chocolate brownie (YUMMY!), chocolate banana cake slice (YUMMY!) and american carrot cake.Love both except the carrot cake…peculiar taste.But so far, their cakes never disappoint me. Love their Bugis outlet cakes.
Read on more my second trip at this Fork and Spoon food court here:
http://www.linamasrina.com/2008/05/fork-and-spoon-foodcourt-square-2-part.html
(Visited 1 times, 1 visits today)