IMM building
2 Jurong East Street 21
SPAGETTI TOO
#01-K08
Walk: 5 mins from Jurong East MRT
Free Shutter Bus Pickup Point: Jurong East MRT, Clementi MRT & Boon Lay MRT
Buses: 52, 99,105, 183, 188, 333 & 502
Just an example of the menu. A waiter kept looking at me so I only get to snap this part of the menu clearly.
This is typical spaghetti bolognaise.Not bad. If u need a spaghetti in a hurry, this will do just fine. I like the meaty sauce.Very filling. About $5.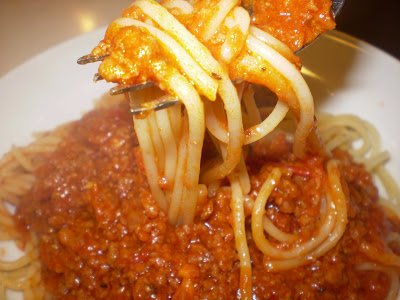 this is London fish and chips. I was attracted by the name since I missed the fish and chips when I was in London. I thought the fish will be seared with vinegar or maybe the chips be like in London.(fyi-London fish and chips are humonguous!And u can get it as a street snack almost everywhere)
But, as u can see from the picture, It is slightly burnt on one side.So first impression isnt that good. The tastewise, I wasnt too impressed with this. But the price is cheap about $5-$6. Maybe I chose the wrong item. So dont judge a food by its name…But if u want a good fish and chips, click here

they have affordable italian and western food on the menu. Latest promotion is sizzling hotplate of spaghetti with salmon and sizzling sirloin steak plus drink =only $8.90. I saw many ordered the salmon hotplate.
Love: chocolate milkshake (like those packet kiddie milk drink ice-blended e.g magnolia ) $1.90. The iced-coffee is not bad too!


Will give this place a second chance, hoping to try the steak one day!


p.s; Dont forget to try the freshly made "roti mama" a stall specialised in coffee buttered bun.
location :#01-40 ROTI MUM
(Visited 6 times, 1 visits today)