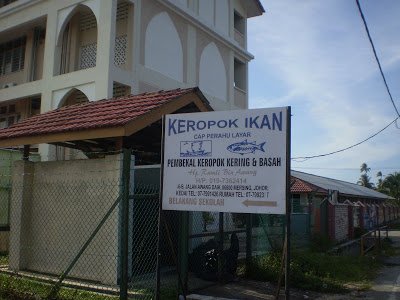 What is keropok lekor?
The keropok is made of fish meat, ground to a paste, and mixed with sago. The long chewy ones are called 'lekor', while the thin, crispy ones are called 'keping'. Best eaten hot with its special chili..
Location:
About 2-3 hours by bus from Singapore.
Mersing town (ask the locals where is the location of the factories)
Very friendly makciks give me extra 2 rolls of raw keropok lekor for free. One piece is RM1.
Warning: A very strong fishy smell in and around the factories…
These chilli empings (crackers) are nice! Very crispy like satay fish cracker.

And if are just passing by to travel to Tioman,Sibu or other islands, then just have some Keropok lekor freshly fried at the Mersing food jetty food centre. $0.20 per piece.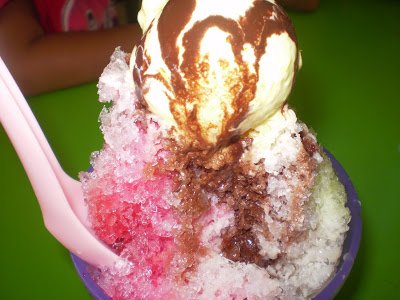 Ice-kacang with corn ice-cream and chocolate syrup.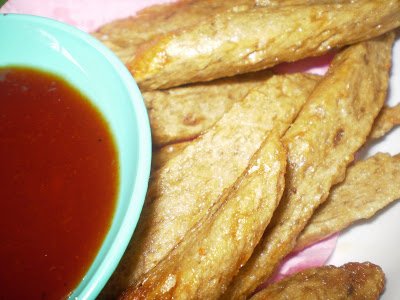 These are the fried keropok lekor with its special sauce. Yummy!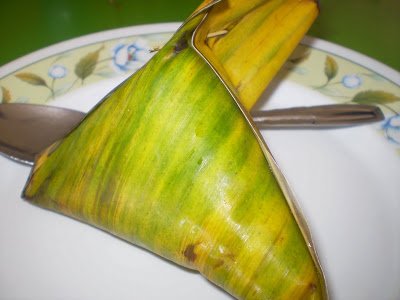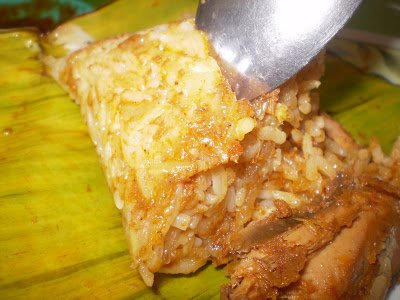 We were told by a chinese customer that this is one of his favourite Must-have everytime, he come here. This is a smaller version of nasi dagang. Glutinuous rice with curried tuna. Fragrant and yummy! just RM 1.20!
fyi-Dont order their coffee…taste funny. i like the ice kacang (probably due to the hot weather), freshly fried keropok lekor and nasi dagang.Other stalls sell nasi padang-kampung style and typical fried rice and other local food.
I love Tioman but I'm scared of the many monitor lizards and the bats! Yikes!Maybe next time should opt for the BERJAYA tioman whereby I can fly directly from the private airbase in Singapore to Tioman 5 star resort. hmm…But still, love the water chalets around Tioman and the friendly locals. Cannot make up my mind…
anyway… the nice view we had (right in front of the food centre)during low tide…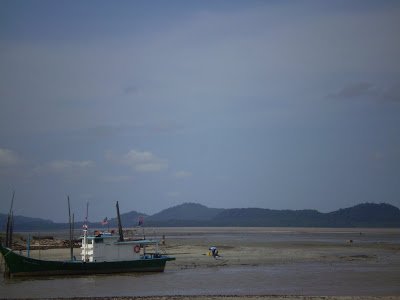 There are some locals collecting /picking something ..probably seashells like mussles, clams or cockles? hmm….
(Visited 15 times, 1 visits today)