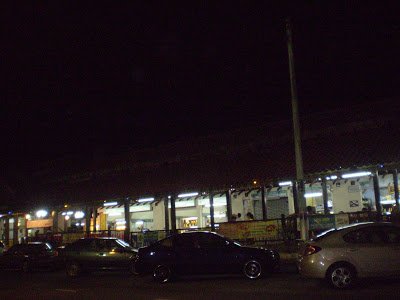 Tepian tebrau hawker centre
Stall no 25
GERAI FARIDAH
Jalan Skudai
Lido Beach
Johor Bahru,
81200
7.30 am-2am (unsure whether this is correct)
Coordinates -(N 1/27.670,E 103/44.259)

I was searching for the old seafood stalls facing the Lido beach (not the other ones @ the minor road) while I came upon this hawker centre. The place looks new. I was attracted by the dark brown wooden furniture. Feels like I'm dining in a restaurant but actually in a hawker centre. heheh!
There were many seafood stalls so I just "chak-chak kuti" (choose the stalls by random)and chose to eat at stall no. 25. Anyway to cut the story short, we ordered grilled fish with air asam , grilled sotong and grilled cockles. When u opt for grilled or bakar, they are normally grilled with sambal. I chose the fish to be grilled plain (no sambal because i want to taste the fresh fish). Other than seafood , they also sell rojak, noodles, fried rice, desserts like ice jelly and lots more… Other stalls sell similar fare.


Assam dipping sauce-I felt that this fish taste better on its own but if there is kicap cilipadi (soya sauce with bird eye chillies), that will be shiok!


Grilled cockles


grilled sotong

The sambal is different. The taste is unlike the ones we are accustomed to which is normally sweet red sambal.
VERDICT: Love the food -especially the grilled fish and sotong. Fresh and nice.Will come back for more….
p.s: I saw their mee bandung, fried noodles, laksa…everything looks so appetizing…
(Visited 10 times, 1 visits today)