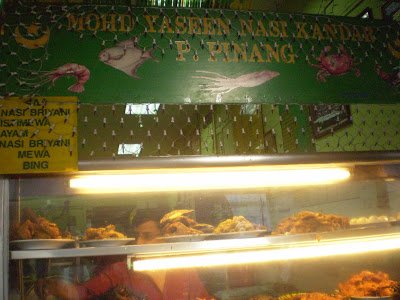 This place is being praised by many. Read on…
The first time I tried nasi kandar was in KL too but PELITA nasi kandar opposite CORUS hotel near KLCC twin tower (walking distance). It was a Shiok experience because the curry is exceptionally good. The combination of food and curries really is great. But I was told the ones in PENANG, the ori (original) is much,much powerful..oh, ok I better dont get carried away…
YASEEN NASI KANDAR
351 jalan tunku Abdul rahman (near Chow kit area)
As compared to pelita, I felt pelita is more modern and commercialised. Here its smaller and the food is typical mamak food but the taste is GEREK!
If u want to know why its called "KANDAR"…

I dunno what to choose…too many to choose " PICK me!!" heh! And so I did. The curry crab seems to be calling out to me…and so I select the big crab!Costly about RM12 but worth it! It was YUMMY and fresh! i also choose fish roe and soft succulent mutton. Power!

I wanted to eat later and let the rice soaked up all the curry.The rice was packed in plastic before being wrapped with newspaper.

(Visited 13 times, 1 visits today)