MY GENIE GOURMET
32 LOR 1 REALTY PARK
Opening Hrs:
8am – 6pm
HALAL-certified
One of the blog visitors is searching for soon-kueh and so I also join in search for SOON KUEHS…
I've tried many different soon kueh and thought that it is all veggies and tasted quite bland without the thick black dipping sauce. Don't really fancy but since
Makansutra has given this 3 bowls RATING-"DIE die must try!" so…here I come!!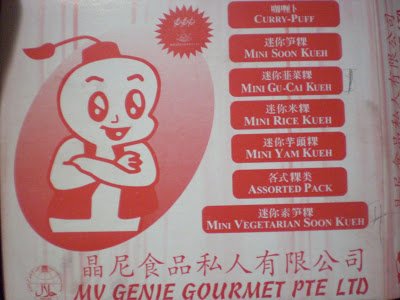 U can opt for mixed in one box or same flavour for all. The mini size is just nice for those who dont really like veggies.Also the glutinuous skin wont make u "muak"/"jelak" because its small.

I tapow the mini soon-kueh. 5 small pieces for $3 i think. The vegetarian soon kuehs (turnips,carrots and mushrooms) are all TASTY! No need dipping sauce.Even the kuchai (vege used in mee siam) soon kueh is nice.
(Visited 35 times, 1 visits today)