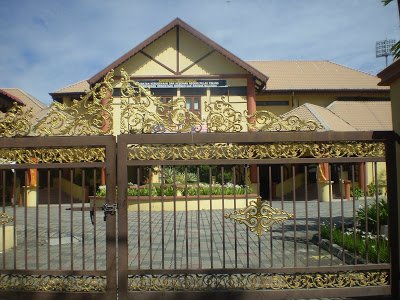 The name is Teuku Zakaria Teuku Nyak Puteh aka P Ramlee.
Profession: Actor, Singer, Comedian, Songwriter, Screenwriter and Film Director
Credits:
360 songs: as singer, songwriter, composer and/or musician.
66 films: as actor, screenwriter and/or film director.
Career Highlights:
Travelled to Singapore on Idil Fitri to audition for Malay Film Productions of Jalan Ampas (8 Aug 1948). Moved to Kuala Lumpur to join Merdeka Film Productions of Ulu Kelang (16 Apr 1964).
Awards: Various awards throughout career.
Film participation:
Asian Film Festivals (Hong Kong*, Jakarta, Kuala Lumpur*, o Manila*, Seoul, Singapore, Taipeh* and Tokyo*) and International Film Festivals (Paris* and Berlin).
I loved his songs, movies…when I was young, I did not know he passed away already and when i found out, I cried non-stop…
His movies can make u cry even if I'm the least sensitive person on earth, and make u laugh at his comedian roles. His movies are enjoyed by both old and young and never bores you…not only back then but till today people still quotes from his movies.
And" bujang lapuk" movies never failed to put a smile on my face everytime. Give me a pail of popcorns and p.ramlee movie, i will laugh myself silly or wet myself (with tears)…
P.ramlee is the bigger size on the right. This is "Pendekar bujang lapok" movie- comedy movie.

I dare not watch his teary eyed movies because its too sad…very sad..but i love the movie "ibu mertua ku" about evil mother in law…very heart wrenching movie. For those who is p.ramlee newbie ,I dare u to watch the whole movie, especially guys! I doubt u can keep ur "machoness" thru out the movie…nevermind just keep a kleenex box nearby…hehe!

I went to his house at setapak, KL. Not so big. Saw his green datsun car and get to know more about him. He is very intelligent person. Very fluent in many languages even japanese. I saw his letters to his beloved wife Saloma in english.
In penang, i failed to visit his birth place aka p.ramlee museum because its not open that day. so sadz..

Not a clear video but from this video, I learnt that his beloved childhood bicycle brake is broken because P.Ramlee often do so to create music , his favourite tunes using the brake pedals. How creative is that?
fyi :Passed away of heart attack at 5.30 a.m. on 29 May 1973 (Tuesday) at age 44. Buried at muslim cemetary of Jalan Ampang in Kuala Lumpur. (Dont forget to recite Al-Fateha for him)
(Visited 9 times, 1 visits today)