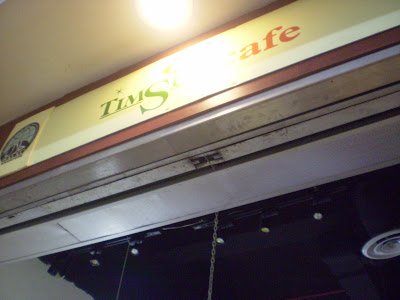 Location: ten mile junction
HALAL-certified
Previously, due to the closure of the dim sum stall at woodlands, this has been one of the queries posted. In search of HALAL dim sum stalls, I went to ten mile junction.
Often w will see this commonly in 7 eleven /cheers, petrol kiosks supermarkets… but this is my first entry to its cafe. The shop doesnt look like an eatery because of its non-renovated retro look with its grey cemented plain floor…anyway, the whole building interior is about the same standard. Luckily for Sheng shiong,one of the main tenant, the customers are not there to judge its interior reno but to enjoy its cheap prices!
So near to its escalator, there is the small dim sum cafe. It seems that they have the normal dim sum that they normally sell and also egg tarts, black century egg porridge plus chicken and carrot cake and not forgetting fried fritters…Also sell drinks like soya bean and lime juice.


Chee cheong fun


Egg tarts


steamed buns with different fillings


Dim sum includes, chee cheong fun, chicken bao, mutton curry buns, potato buns, red bean, siew mai, glutinuous kuehs like soon kuehs…
All sell at promotion price of $2.20 for 3 pieces ( u can mix match)
I eat the chee cheong fun on the spot but ta-pow the other buns..They also sell frozen buns in packets here to steam at home.
Verdict: The taste are the same..not much different from those sold in 7 elevens. Egg tart is ok (dont fancy the crust though). chee cheong fun okeylah, prefer the Qiji ones at Shaw tower/beach road. For me, unless the place is nicely renovated and clean, then i might eat there, or else, u just tapow but if u live faraway like me, just buy at 7 eleven is sufficient enough.I only like the thick rich sobe-kind of soya bean drink and sourish lime juice..hreehe!
Miss the simei east point food court dim sum. I used to frequent there eating their steamed dumplings/gyoza looking with their powerful kicking chilli sauce!They got lots of varieties too!But too bad, years ago, it close shop. Eh, how come the Halal dim sum shops are closing one by one? Maybe not much patronage from muslim community, perhaps? But now, if I crave for some buns, i just head to ahmei cafe, hometown's handmade buns/noodles or chee cheong fun @ Qiji. Fried wantans , i like the capitol branch of magic wok but that was ages ago(now dunno have or not) Other than that, if really2 craving just buy at 7 eleven. Soon kuehs can buy at genie/qiji..ngoh hiangs @ new generation mackenzie or new hawa cafe waterloo. eh, if I'm not wrong, at Raffles hospital, there is Dim sum foodstall in Banquet in an unseen corner…Never tried that though. Razack's kitchen also have…Eh, last time, far east plaza is one of the "pioneers" in dim sum too, now i do not know..anymore places? Just shout it at coffeeshop talk.
(Visited 8 times, 1 visits today)