updated March 2009 -Anonymous (under comments section) told me that this place is no longer HALAL-certified, so take note. Always ensure HALAL certificate is being displayed in all food reviewed, ok? Thanks , Anonymous!
….SEAFOOD !!!
Name: the Meeting place
location: Blk 353 Clementi ave 2 @ market
HALAL certified
Wanted to savour the soft succulent juicy boneless hainanese chicken rice @ evertop but they were closed (9.45pm). So went to this "meeting place" instead. Saw this place when I first tried the Evertop chicken rice. So what are you waiting for? Let's look at what they got to offer…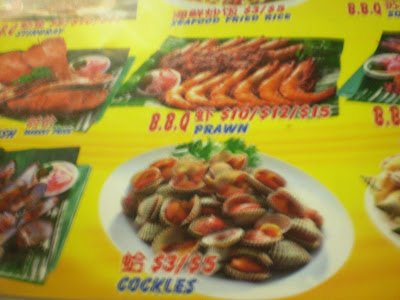 The cockles are cheap , only $3 for small plate. But chinese cooking, they normally dont over-cooked the cockles till well-done. they always cook
medium well/medium rare kind. So if prefer urs well done cockles (throughly cooked 100%) then dont try this…or u can request..


This is a refreshing onions vinegary sourish sweet .

The sambal sting ray is nice complemented by the delicious sambal. I think small is $8 or $10. Even bbq fish (small serve) is only $12.


Sambal sotong small-$8 . the sambal/chilli is dark red. I thought "chao-ta" or burnt but it wasnt. It was a delight to my tastebuds! yummy. the sotong is fresh too!


Beside this drink stall , there is a mee goreng called "subhan family stall " aka shenton way mee goreng. I heard the wok continuously frying something maybe the mee goreng because the whirling swirling tong tong sound of frying noodle can be heard even though i was about 20metres away. Too bad cannot stomach anymore food.


Bandung POWER @ Mohamaadia coffee stall. It's authentic bandung drink with real rose water. Taste it to believe it! Nowadays seldom u can find such authentic BANDUNG drink…


I was watching the customers near me eating packets of nasi lemak from a box in front of the drinks stall. Was full, but curiousity is "killing me!" So i ta-pow home. Cost about $1+. Very old style nasi lemak. Very nice. Even left overnight, the food is still good. Could be they cooked the coocnut milk first before cooking the rice. The rice is grainy and nice. Inside there is anchivies, egg and fried fish. yuummy sambalicious..

Overall VERDICT: The seafood is cheap and GOOD! The neighbouring stalls are yummy looking and hearing too (mee goreng wok) ! And not forgetting the nasi lemak and POWER bandung drink! And if have more tummy space, dont forget to go to Evertop hainanese chicken rice!!
(Visited 2 times, 1 visits today)