white vermicelli (is this kampung dish or mamak/indian??confused..) ..best eaten with red sugar


red sugar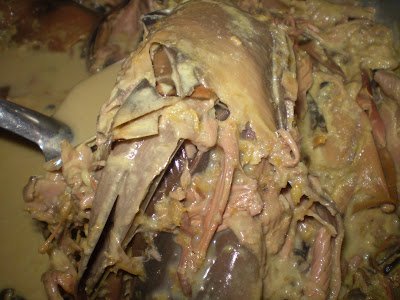 Banana tree "heart" in coconut gravy/jantung pisang masak lemak. Normally I eat this heart of banan tree boiled and dip in asam sauce/sambal belacan but this is my first time eating this! Yummiliciously good! Sedap…


Long beans in coconut with beef and tempeh/tahu (soy products)


Sambal belacan and kicap cili padi will surely kick u sky high due to its spicyness! try one dot first if u are scared of chillies…but for veterans of chillies, just scoop as much as u want…dont forget to cool ur body down with lots of water, later!


This ubi kayu/tapioca is boiled till semi-soft aka genjol/ganjol/gonjol in jawa..eh dunnolah the jawa terms all mixed up!! I was told it can be eaten with saltish fish, cili padi soyasauce, sambal belacan, red sugar…weird huh? this is one of the popular food when there is a shortage of rice once upon a time during war.
This is fried saltish fishes.Fried till its very crispy. Can eat whole!


this is kueh GOLI aka marble. It is very hard like marble (hehe!)Eaten bit by bit ,taste the peanut bits all smashed up and hardened. I was told this is one of Indian favourite kuehs in deepavali. But if u have dentures, dont trylah…and please dont throw it at ur kid brother, surely the head will "BENJOL", swollen!

mini cakes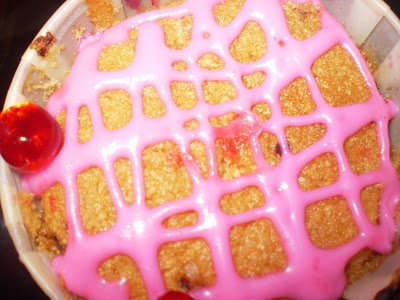 Assortment of dadihs which is a milk dessert similar to jelly but nicer!!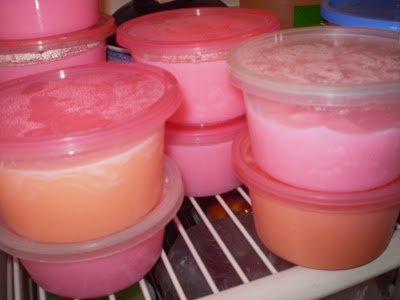 thanks to all the "Ayang putris" (aka nenek/granny in Jawa language) for the wonderful feast! Especially to ayang putri Miskiah for the kampung dishes…alhamdulillah delicious till tummy/perutku buncito like potato!
(Visited 11 times, 1 visits today)